Marmot Genesis Jacket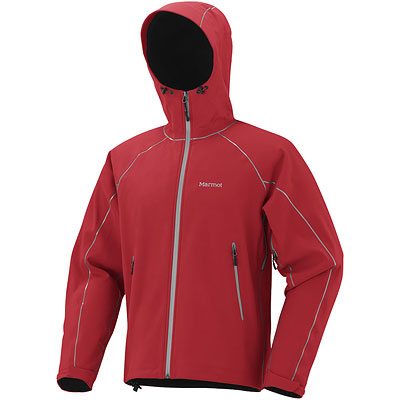 storm-worthy softshell
waterproof/breathable
windproof
1lb 8.4oz
Marmot's Genesis jacket unexpectedly joined my gear collection under some amusing April circumstances. Expecting warm spring skiing, I hadn't bothered to bring warm clothes, or even a jacket on an end-of-the-year ski trip to Telluride, Colorado.
When I arrived, however, temperatures in town were in the single digits, and a full-scale blizzard was raging on the mountain. I made a game effort to run what I'd brung before the cold sent me hurrying off the mountain to get more appropriate clothing. Thus I discovered the Marmot Genesis. I wasn't happy spending money on a winter coat in April.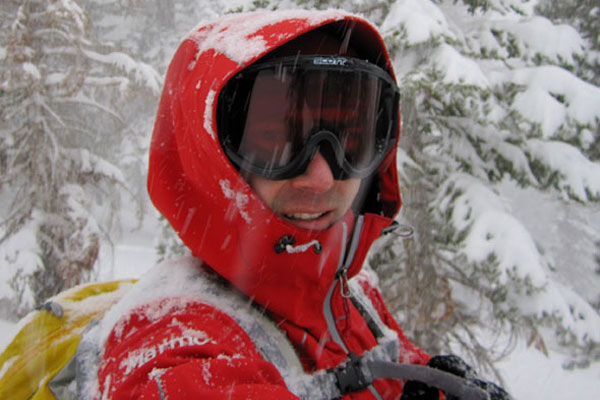 But after a week of skiing in bitter cold, biting wind, and driving snow, I liked the Genesis so much I decided to keep it.
The knock on softshells is that in really abominable (ie wet) weather, their performance breaks down. Softshells and rain aren't supposed to mix.
Marmot's Genesis uses a new bonding technology to create a jacket that delivers that holy grail of outerwear performance: a shell that is waterproof, breathable, and windproof. At the same time, the Genesis preserves all the advantages of a true softshell, including a comfortable, stretchy fit, and soft-against-the-skin, supple fabric. Combine this with the Genesis's sharp styling and even sharper feature set, and you've got a heck of a performer for Alpine skiing and winter mountaineering.
The Genesis has a fixed hood that is big enough to fit over a helmet. A discrete Velcro tab on the back of the hood plus a draw cord allow you to customize the fit to get it to sit high, low, or in between over your head. You can also roll the hood and stash it via the tab, creating a wind-blocking collar of customizable height.
Velcro tabs cinch down the jacket's wrists as needed, and the waist has a draw cord as well. Other features include welded seams, pit zips, and a thin fleece lining that adds just the right amount of insulation. In addition to the Genesis's bombproof performance, I also liked the fit: the jacket sat well on my trim, medium-sized frame, neither too tight nor too baggy.
I can't speak highly enough about this jacket's performance in foul weather. It especially impressed me on a wet and heavy day in the Sierra, when we began climbing in snow that was just on the edge of rain. I stayed warm and dry the whole day through despite the challenging conditions, and I really liked the ability to adjust the height of the hood with gloves on.
At one pound, eight point four ounces (measured), the Genesis is substantial enough to hold up to in-bounds Alpine duty, and of course foul-weather use in the backcountry. You'll want to use a lighter shell in fairer conditions, inbounds or out, but for those heavy days, the Marmot Genesis really delivers. Compared to the similarly-featured North Face Apex Bionic, I give the nod easily to the Genesis. I'm glad I found it.