Mountain Hardwear Direkt 2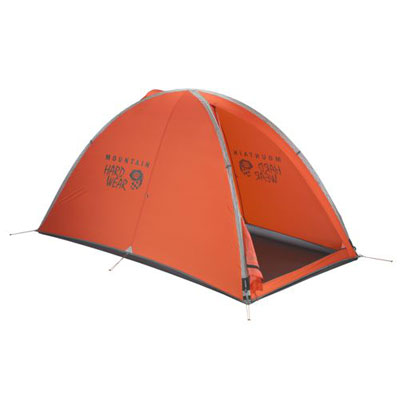 essentially unventilated
crazy-light
limited versatility
2lbs 9.5oz (tent+poles)
Mountain Hardwear's new Direkt 2 is a single-wall tent built in the style of Black Diamond's Firstlight, but updated in a way that makes it both more and less useful.
The twin headlines here are a crazy-low measured weight of two pounds, nine point five ounces (tent and poles), plus a completely 100% seam-sealed single-wall body that once and for all puts to rest any worries of waterproofness. The bad news is that the Direkt2's canopy waterproofing is handled entirely via an impenetrable PU-coating that will not pass water vapor (as, for example Epic or Nano fabric does).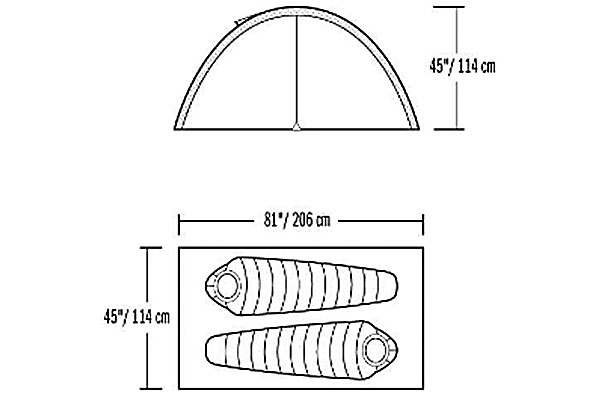 Add to that the fact that the Direkt 2 is effectively unvented, and you've unfortunately got a very light tent that is going to be very unusable in most conditions. What the heck was Mountain Hardwear thinking? The answer is that the Direkt 2 is a specialty tent, designed for extreme, fast-and-light high altitude mountaineering—and not much else.
To be accurate the Direkt2 does have a vent: one small triangular vent, at the rear of the tent body. There is otherwise no venting, and the door has no mesh, so you're either fully open (to bugs and rain) or you're fully closed. Venting at such a meager level effectively rules out the Direkt tent for all but cold and dry (and bug-free) conditions. In other words, it's not a summer tent.
Yes, as with all of the current crop of space age, ultra-ultralight tents, the Direkt 2 is expensive, thanks to its extremely light poles and exotic fabrics. In keeping with its high altitude theme, the tent's canopy has been cleverly reinforced with strips of non-stretch laminate, giving the tent body extra strength to better cope with high winds. I doubt Mountain Hardwear is green-lighting this for Camp IV at Everest, but I expect the Direkt 2 will hold up better in wind than a Firstlight.
I rate the Direkt 2 as unquestionably something of a pain in the ass to set up. Those slick laminate strips must be lined up with the interior tent poles in a way that maximizes user frustration. Better guides or even sleeves to hold the poles in place during set up would be most appreciated, though of course that would marginally up the base tent weight.
Does the Direkt 2 make a Black Diamond Firstlight obsolete? I'd say not. There is a lot of overlap between the two tents for high altitude or cold-weather use, but the breathable and better-vented Firstlight (and certainly the Highlight) does bring summer versatility (sealing and waterproofness concerns aside). Interior dimensions for the Direkt2 are 45x81x45", very similar to the Firstlight. In either case, these are generous solo shelters and very cozy for two.
I wish Mountain Hardwear had either given the Direkt 2 a mesh door, or released a partner model with a mesh door. That modest change would add a lot of versatility to the design. That said, Mountain Hardware has just released the two pound, seven ounce Super Mega UL, which should prove ideal for ultralight summer backpacking. For winter/high-altitude use, the Direkt 2 certainly has its appeal—just be aware of its extremely limited venting.