Mountain Hardwear Micro Dome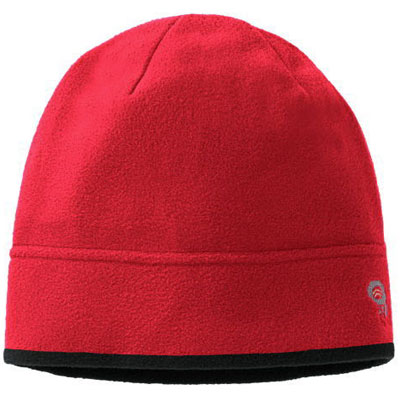 windstopper™ fleece
solid performance
less stretch/breathability
1.5 ounces
A Windstopper™ fleece beanie would seem to be the ideal hat for Alpine and perhaps even backcountry skiers when the weather gets truly foul.
I remain a huge fan of Polartec's Wind Pro™ fleece for hats—though these are inexplicably hard to find. The breathable but highly wind-resistant Wind Pro hats are ultralight and warm but not too warm, especially if you happen to be wearing one while you're hiking or climbing. Still, when you get to a certain temperature and wind range, the wind pro hats do seem a little too light. So maybe, I speculated, a Gore-Tex Windstopper fleece hat might be the better choice in truly arctic weather?
Conveniently for my inquiry, Mountain Hardwear has just released their new Windstopper Micro Dome Beanie—a traditional beanie (or watch cap, if you will) with a fully-windstopper upper and a soft, non-windstopper fleece lower brim that can be rolled up or down depending on whether you wish to cover or uncover your ears.
All of these features, I've learned, are very important in a windstopper hat. Gore's windstopper layer has an annoying tendency to block out sound—you don't want it covering your ears unless you enjoy that losing-your-hearing sensation. And, in cold weather, if the top of the hat isn't wind-blocking, there isn't much point to it; you may as well just be wearing a headband.
At 1.5 ounces (measured), the Mountain Hardwear Windstopper Micro Dome is fantastically light, perfect for stuffing in your pack or a pocket in case a storm catches you. As expected, the windstopper layer does a terrific job blocking out wind, though I must still give the ultimate warmth award to my heavy wool Alpine Ski hat.
As feared, Gore's Windstopper laminate layer proves a bit too dense for ideal hat use—it's just not nearly as breathable as Polartec's Wind Pro fleece. The Windstopper Micro Dome is not a hat you can comfortably climb in, especially as temperatures moderate, or your output nears red line. It's a little too easy to start sweating in this hat, which is a big no-no. On the other hand, how hard is it to pull off your hat and stuff it in your pocket when you get warm?
My final complaint with the Windstopper Micro Dome is its relative lack of stretchiness. This is only going to be a liability if you're wearing it in high wind without goggles. There is absolutely a chance that a wind gust could rip it off your head. I guess the bottom line on this is that the Wind Pro hats (if you can find 'em) are the more versatile choice. Absent that, the Windstopper Micro Dome gets just about everything exactly right. Its only limitations are those inherent to its Gore-Tex laminate: specifically, a lack of stretchiness, and not quite enough breathability for high-output climbing.