Patagonia Upwind Beanie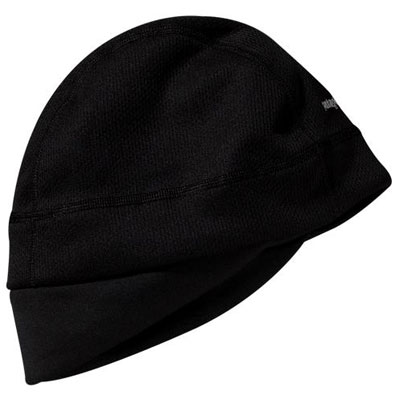 windblocking
stretch fit
breathable?
1.5 ounces
Aha! It turns out Polartec's Wind Pro™ and Windbloc™ fabrics are not the same. Patagonia's handsome Upwind Beanie is made of Windbloc fleece, which turns out to be a lot more like Gore-Tex's Windstopper™ fabric than Wind Pro.
What do all these trademarked names mean? Windstopper is the original Gore technology that embeds a Gore-Tex layer within traditional polyester fleece, making it effectively windproof but also limiting the fabric's breathability. Yes, Windstopper garments do maintain some degree of moisture vapor transmission, but they don't tend to be ideal for high-output activities like climbing.
Similar to Windstopper technology, Polartec Windbloc embeds a urethane membrane layer in its fleece fabric, conferring windproofedness—and limiting breathability. Though I am sure the respective companies would hate me for saying it, I think we can safely assume than Windstopper and Windbloc fleeces will perform about the same.
On to the hat: nice features about the Patagonia Upwind Beanie include a rear ear flap to keep your ears from freezing, a very soft interior fabric that won't irritate your skin, and the nice overall stretch of the hat, which means it won't blow off no matter how hard the wind is blowing. Hmm...maybe there is a difference between Windbloc and Windstopper after all—Windstopper garments don't tend to have any stretch at all.
I found the Upwind Beanie especially well-suited to Alpine (that is, downhill) skiing. The stretch fabric and angled earflap profile make for a trim fit without any bulk beneath your goggles. The ear-flap can be folded upward to get it off your ears when you don't want the extra warmth. As a smart detail, the ear flap is made from a different fabric (Polartec Powerstretch™) to prevent the sound-dampening effect of the urethane layer in the windblocking upper.
While I am going to give the breathability nod to the Upwind's Windbloc fleece, on one particularly cold 7° morning skiing, I thought that the Upwind Beanie was slightly colder overall compared head-to-head (sorry) with my Mountain Hardwear Windstopper Beanie—though I may have been imagining the difference.
I think my final take on this is that it's a great inbounds hat for downhill skiers. These laminate-layer fabrics do offer outstanding performance in wind, but the breathability cost is significant compared to Wind Pro fleece, reducing comfort when climbing, or even just wearing it around the house. On the technology side, Polartec's Windbloc fabric emerges as an intriguing and in some ways (stretch, comfort) superior alternative to Windstopper. We'll have to keep an eye on it.