North Face Hot Tamale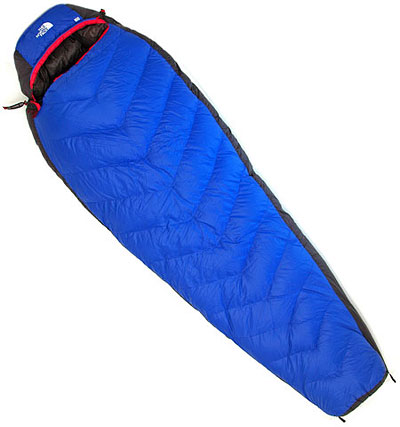 unmatched comfort
full-length zip
15° down
2lbs 7oz
The North Face Hot Tamale is a feature-rich bag that reminds you of that old saying, they don't make 'em like they used to. I don't know why North Face discontinued the Hot Tamale. For a long time, it clearly outperformed all of its would-be replacements in the TNF down sleeping bag lineup.
Spurred by the ultralight trend, The North Face has finally released a few bags that are as warm as the Tamale, and lighter. However, even though the Tamale weighs a tad more than the newer bags (or Marmot's outstanding Helium), I can't bring myself to sell it. First of all, the Hot Tamale's authentic Pertex fabric is the softest synthetic fabric I've ever felt. Honestly, the interior feels like silk against your bare skin—none of that crinkly, pasty, sickly-sticky nylon feel.
The Tamale also features a full-length stick-proof zipper—remember those?—so you can unzip all the way to your feet on hot nights and roll around to your heart's content. Throw a leg outside the bag without any awkward gymnastics. Get crazy!
North Face packed this with 800+ fill goose down, and the baffle system does an outstanding job keeping the padding where you need it. Compared to today's ultralight 15° crowd, the Hot Tamale seems distinctly puffier. Let's just tell the truth and say it's a warmer bag. I can't really justify bringing this bag along given the lighter alternatives in my closet. Then again, when shaving pounds isn't my top priority, I get a much better night's rest with my Hot Tamale, thanks to its extraordinarily comfortable fabric, cut, and zipper.
Private confession: if I'm ever homeless, or wandering a post-apocalyptic landscape, this is the sleeping bag I want (all right—upon further consideration, maybe a synthetic bag would be a better choice for the post-apocalpytic landscape). But I'm still keeping my Hot Tamale!