North Face Khumbu Jacket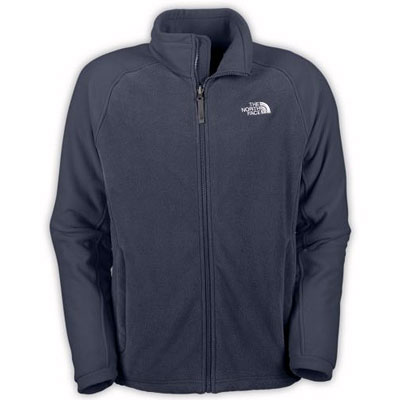 cool-to-cold weather
shell compatibility
denser TKA 300 fleece
20.5 oz (men's medium)
The North Face designed the mid-weight Khumbu Fleece Jacket for "cool-to-cold" temperatures. In-hand, you'll notice the Khumbu is slightly thicker, stiffer, and less compressible than, say Patagonia's comparable R3 jacket.
However, the Khumbu fleece actually weighs an ounce less than the R3, making it a feasible choice not just for inbounds fun but also for cold-weather hiking and climbing. And, for some applications, its thicker fleece absolutely proves to be an advantage. For example, while on its own the Khumbu is not intended to be windproof, its denser fleece construction means you'll be more comfortable in a breeze than with a wider weave.
Unlike a true windblocking design, however, the Khumbu maintains unrestricted breathability. For days when you do need a fully windproof jacket, the Khumbu takes advantage of North Face's modular design philosophy by zipping/snapping in to many North Face shells.
I like the Khumbu especially for extra warmth on cold days at the ski hill. The Khumbu's thick, felt-like fleece is a welcome feature when you're riding up the chairlift in frigid weather, as it better insulates your back from those icy metal seat parts. I've found other fleeces so poor in this regard that my standard inner layer for resort skiing in a blizzard is actually a thick cotton sweatshirt (interestingly, North Face says its 300-weight TKA fleece is a great alternative to cotton sweats).
Of course, less compressibility does reduce the usefulness for backpacking and mountaineering, as it makes it harder to stuff your clothing into your pack. As for amenities the Khumbu is rather utilitarian: cinch cord at the waist to snug up the fit, one full length front zipper, and two side zip pockets. If that sounds a little Spartan, it's well compensated by the Khumbu Jacket's economical price. As an added value perk, you of course also get The North Face's lifetime warranty.
In terms of style, the Khumbu didn't leap out at me. The fit was square and a bit roomy on my frame, without much taper (Ladies take note: this only applies to the men's version. The women's has a more shaped fit). I'll call the Khumbu a basic fleece at a reasonable price. Don't mistake that to mean this is a cheap fleece: the performance is good, and the extra wind resistance is very nice. If that sounds like what you need, the Khumbu is a solid pick.