North Face Malache Jacket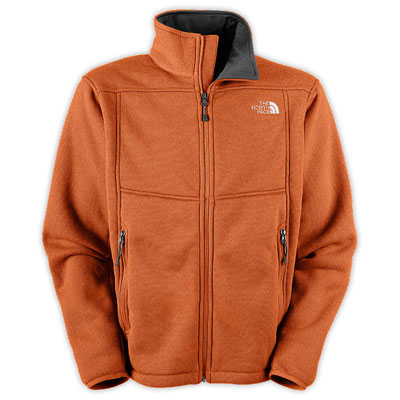 100% sweater knit polyester
cotton-like comfort
some wind blocking
21.2oz (men's small)
I'm a big fan of non-fleecy fleece. Yes, we all know the performance advantages of fleece, and we've all got at least one fleece jacket lurking somewhere in our closets—but does anyone actually like the stuff?
Given the choice of fleece versus a cotton sweatshirt, I'll take cotton every time, except for those times which require fleece, which are, unfortunately, pretty much always when you're hiking, climbing, skiing, camping, or just sitting around in cold or wet weather. But take heart: The North Face has been working with Polartec to create fleece jackets, like the Malache, that don't look or feel like fleece.
The Malache jacket is 100% polyester, but you'd probably need to check the label to verify that. The outer surface has that 'sweater knit' look and feel, just like a high-end cotton sweatshirt. Inside and out, the Malache's fleece feels soft and comfortable against your skin. Even static seems under control, so that, once again, the Malache feels organic rather than synthetic.
Where does the Malache fit within The North Face lineup? It's definitely marketed more as casualwear than technical gear. In that regard, I like the Malache's subtly-retro styling, including a fine-knit texture, slightly oversized collar, and stiffer-in-hand feel, and as mentioned the jacket is comfortable, so feel free to wear it around town.
However, the Malache might deserve a look for your outdoor needs as well. Compared to basic fleece, I find the Malache's construction is thicker, and it offers noticeably more wind resistance (though it is not wind-blocking). Wind resistance without windproofing is a nice trick if you can manage it (reminiscent of, say cotton), offering enhanced comfort and breathability in a wide range of conditions.
But don't ditch your technical fleece just yet. The Malache employs North Face's 'standard' fit, which means it is very roomy about the torso (I size into a small, which still has considerable room), and at 21.2 ounces (men's small, measured) the jacket's weight is just a hair below a beefy fleece like Patagonia's R4. So, the Malache probably isn't appropriate for speed ascents. For sitting around base camp, however, or for casual use, I say it's a sharp choice.