North Face Triumph Anorak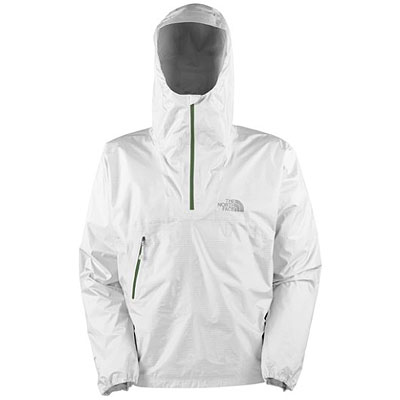 brilliant!
waterproof/Breathable
best for minimalists
6 ounces (men's medium)
If you're a minimalist, the North Face's Triumph Anorak is not only a stunningly-light full-service shell—it's a work of art. The HyVent™ Triumph employs several new design technologies, including North Face's "Magic Seam" ultrasonic bonding.
The result is surely the lightest and most compressible waterproof/breathable shell on the market. At six ounces even, the Triumph Anorak weighs about as much as your ultralight nylon windshirt, while equaling the storm-worthiness of full service Gore-Tex shells weighing three times as much (or more). I admit it: I'm always trying to cheat when it comes to packing a shell. If I can rationalize leaving my Venture Jacket at home, I do it.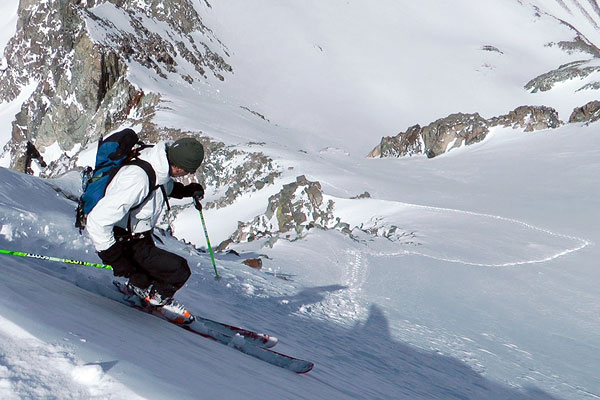 Who wants to carry a pound or more of gear that almost never gets used? That kind of thinking usually causes no problems in the Sierra, where the weather is somewhat predictable, but sooner or later you're going to get caught in a full-bore T-Storm (or worse) with only a coated nylon windbreaker in your pack.
Now, instead of playing that version of weather roulette, you can just toss the Triumph Anorak in with your gear and head off into the wilderness worry-free, even in the stormy season, even in winter, even on Shasta. The Triumph's ultralight HyVent™ fabric strikes me as softer and more breathable than other North Face Hyvent shells.
The jacket is extremely compressible, occupying little space in pack or pocket. While you're wearing it it's comfortable, without an annoying crinkley feel or sound. So what are the liabilities? Obviously, you're not getting as durable a jacket as standard 3-ply Gore-Tex XCR technical mountaineering shell. Abrasion from pack straps or rock flakes will likely be a concern—the Triumph's fabric is very thin. You also don't get much in the way of amenities: the hood and wrists do have drawstrings, but these are quite minimalist. You get only one pocket.
The fit seems roomy enough to allow for inner insulations layers, but HyVent is not a stretch fabric. The 2-ply Triumph Anorak is likely to outperform most nylon windbreakers, windshirts, and wind jackets in both durability and windproofness, but it will not be as breathable as plain coated nylon. In terms of weight, the Triumph versus the windshirt is almost a dead heat. My GoLite Ether wind jacket (which is a hooded pullover) is one of the very lightest nylon jackets available, yet only weighs 1.4 ounces less than the Triumph.
Get the Triumph if (like me), your shell mostly stays in your pack as insurance. If you're going to be regularly subjecting your shell to heavy use, the Triumph may not be the best bet, unless you're okay with replacing it (of course, any shell is gradually going to wear out under heavy use). For my needs, weight is overwhelming the deciding factor. Compared to my Venture Jacket, which is probably the next lightest waterproof breathable shell widely available, I save over seven ounces switching to the Triumph. That's more than good enough for me.