Salomon MTN Lab (2017)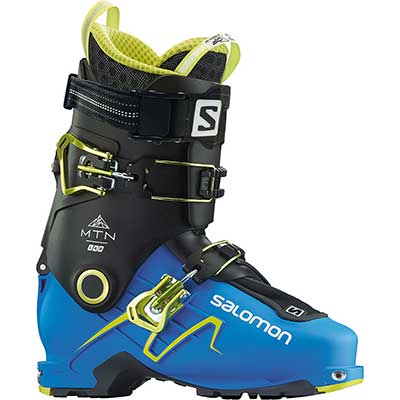 limited climber
fit issues
liner weakness
7bs/pair (26.5)
Salomon continues its quest to transform itself into a major Backcountry/Freeride force with its new, tech-compatible MTN Lab ski boot.
As you might expect for a brand-new touring boot from a company without an extensive backcountry pedigree, there are numerous and significant problems with the MTN Lab, including liner issues, fit issues, and an impressive-in-your-living-room walk mode that doesn't translate well into actual climbing.
But let me first note that the MTN is almost—almost—a fantantic boot.
In fact, fix what's wrong with the MTN Lab, and you would have a truly outstanding touring boot. Keep that in mind as we disect what's good and bad about the MTN: as this boot evolves, I expect it (or something very much like it) will become a major contender for both freeride and mountaineering-oriented touring.
THE RIDE
The MTN Lab skis very, very well. This is the headline from most of the other reviews I've seen, and you've probably already heard it as well: the MTN Lab is surprisingly, genuinely stiff, offering one of the most Alpine-like rides I've seen in any touring boot in this weight class.
That's especially impressive given this is only a two-buckle boot, plus cammed power strap. Many of you will love the MTN's ride so much you won't care about anything else, and if that's how you roll, have at it and get a pair with my blessing.
THE FIT
What the Hell happened with the MTN's fit? I'm swearing already, and that's never a good sign. Things start out perfectly, with a flat boot board insert, and it all goes wrong from there. I find the shell bizarre in terms of shaping—it's as if Salmon tried to make it as un-anatomical as possible.
Pair that with a truly weak liner and only two buckles, and you end up with a boot that manages to be both too narrow and too roomy, and that allows virtually unmitigated slop around the heel.
This may or may not leap out at you if you're carving high power GS turns on groomed slopes (which the MTN Lab does quite nicely), but try working your way through a chute filled with manky slop and your heel may well lift so much you'll fear you'll pop right out of the boot entirely!
This is of course exacerbated by the boot's two-buckle design, which gives you at-best limited options when it comes to tightening down crucial fit areas.
THE LINER
The liner is not good. Salmon has crafted cutouts at the shin, ostensibly to facilitate forward range of motion (more on that in a moment), which instead create a binding/pinch point against your shin that grows tedious indeed as your tour length lengthens. Pull them out and replace with Intuitions.
WALK MODE
Not good—which is especially surprising given this is a two-buckle boot. The problem seems to be that the MTN Lab has a very, very limited range of motion forward of center. This is probably part of why the boot skis so well: flip it into walk mode, and it's still quite stiff in terms of forward flex.
Does it matter? I've often argued if you give me a seven pound Lange RS with no walk mode I'll happily ski it in the backcountry, and climb with buckles undone, but as I get increasingly old and grumpy, I do find myself more sensitive to climbing efficiency.
That limited forward range of motion really does compromise stride and comfort when you're going uphill, either on skins or on crampons. Yes, you can unbuckle the MTN Lab to free up more forward motion, but this invites blistering—lots of blistering, aggravated, of course, by the boot's already-challenged fit.
OTHER COMPLAINTS
Seven pounds strikes me as a little too heavy for a two-buckle boot. Why should I buy the MTN Lab when I can get four buckles at six and a half pounds with the Scott Cosmos, for example, or the awesome Scarpa Maestrale, with its doubly-awesome instep buckle, at the same exact weight?
(Answer: because the downhill ride is great, and who cares about anything else)
BOTTOM LINE
Fix it! Fix the fit issues, give it a decent liner, drop the weight a bit, and free up some forward range of motion. Then send it to me, express overnight. No, it's not there yet, but this is a very promising debut from Salomon. And for those of you who find it fits well as-is, and who don't care so much about the walk mode, the boot is already great—and likely to soon get greater.