Scott Team Issue
series-4 aluminum
strong/rigid
versatile basket
18 ounces/pair
I'm a big believer in aluminum ski poles inbounds and out. Scott's Team Issue poles are designed for Alpine use, but they're quite suitable for the backcountry as well.
Aluminum's combination of strength, rigidity, and reliability make it my material of choice for ski poles, and my favorite remains Scott's Series 4 aluminum shaft, which weigh a very respectable 18 ounces per pair (measured) in a 125cm/50" length.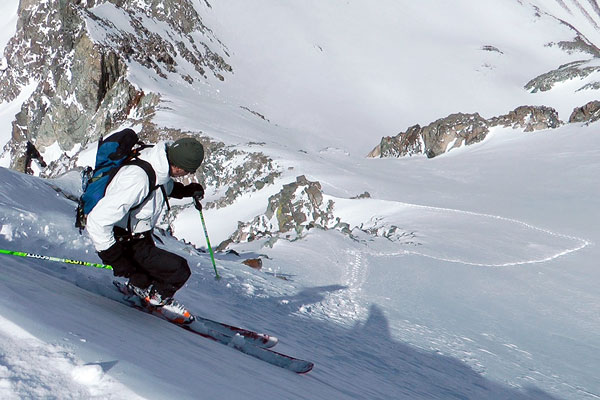 The Team issue is a freeskiing pole that uses the same outstanding Series 4 shaft found in the Scott World Cup Racer—basically crazy-strong 75,000 PSI aluminum. Scott tends to tweak the Team's artwork and handle grip year after year, but the essential functionality of the design remains unchanged and unchallenged.
The basket is slightly larger than the racing disk on the World Cup models, making it appropriate for powder days, yet still small enough to not cause problems on super-steep slopes. The handle is comfortable in hand, with fully-openable soft straps. I confess I am a little vain when it comes to my ski poles' artwork. I especially like this year's green, and advise against the purple.
Many backcountry skiers (in fact, most) choose collapsible poles because they're easier to pack, and you can shorten them for climbing. I like a fixed-length pole primarily because it means I never have to worry about joint failure or unexpected collapse in dicey situations. For me this is primarily an issue in no-fall terrain. But even on more moderate slopes, it's nice to never have to worry about your pole plants.
High-grade aluminum proves quite resistant to getting chopped to pieces by ski edges, even year after year, leading to impressive durability. I've got a red pair that's well over ten years old now. Scott has upgraded the tip on the Team Issue Pole, so they no longer dull as easily, further extending longetivy. No doubt about it—these are my favorite ski poles.