Scott World Cup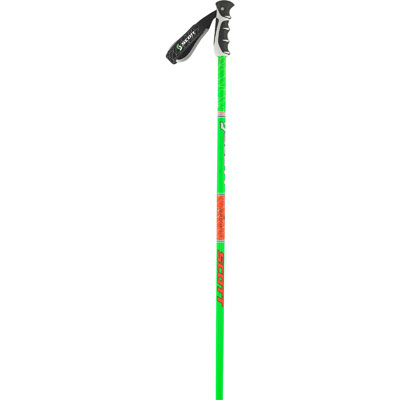 series-4 aluminum
strong/rigid
durable
18 ounces/pair
When he did his 385 mile "Ultralight Icebox" trek, Andrew Skurka chose aluminum alpine ski poles for their strength and durability.
Like Skurka, I don't hesitate to poach my own Alpine ski gear when it comes to backcountry use. Overwhelmingly, I prefer fixed-length aluminum poles when I'm touring, and my favorite poles are Scott. Along with the Team Issue, the Scott World Cup is a regular on my gear list. Yes, most people choose multi-segment carbon fiber poles nowadays for hiking, climbing, and backcountry skiing. But you may find, as I have, that aluminum poles make a compelling alternative.
First of all I should of course note that Scott's World Cup pole is an outstanding choice for Alpine skiers. These are one the premium Alpine poles available, and are a favorite choice of racers everywhere, myself included. What makes them so popular? The World Cup uses Scott's Series-4 aluminum shaft, which is lightweight yet also extremely strong and rigid.
The extra strength and durability of the World Cup is something I find invaluable in the backcountry. I often think of my poles not just as accessories but as mountaineering tools, just like an ice axe or crampons. I'll occasionally used my ski poles to belay myself in interesting locations, such as when descending unexpectedly steep or icy terrain.
As for longevity, there is little question that aluminum will better resist being carved to pieces by ski edges compared to carbon fiber poles. Also, while you might think carbon would have a clear advantage when it comes to weight, carbon fiber poles are almost always multi-sectional, which adds weight, and they require extra material for stiffness. In practice, the World Cup is likely one of the lightest poles you'll find.
Trekkers and climbers should note that the lack of height adjustability can be an inconvenience. This doesn't bother me, however. In fact, I find it an asset: in extreme terrain, I know my poles are always going to stay the same length, with no possibility of collapsing. Note that the World Cup comes with a smaller basket size optimized for Alpine racing. For a more versatile basket, choose Scott's similarly-excellent Team Issue ski pole.