Sigg Traveler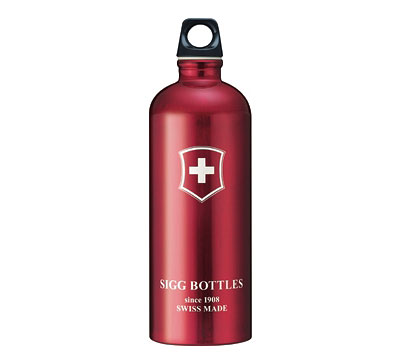 (past) bpa dishonesty
best subjective taste
stylish
5.1 ounces
Swiss company Sigg's handsome one-liter aluminum Traveler is nearly as light as a Nalgene HDPE bottle, making it one of the lightest rigid water containers.
But are they safe? For years, Sigg said its proprietary baked-in liner formula did not leach BPA or other harmful chemicals. Others were skeptical of that claim, however, and began their own investigations. Even raising questions, however, seemed enough to bring legal threats from Sigg. Meanwhile, as consumer fears surged about the safety of products containing BPA, Sigg aggressively marketed its product as a BPA-safe alternative, always being very careful to avoid explicitly saying it was BPA-free (though having no qualms about others making that claim on their behalf).
And then came August 2009, when Sigg at last revealed that the secret ingredient in its secret formula was, in fact...BPA. Now, there is no evidence I'm aware of that Sigg's bottles were leaching BPA‐certainly not on the order of Lexan products, for example. But many people, myself included, were stunned that a reputable company would play such a despicable game of misdirection (including legal threats) to sell products that it knew contained BPA.
So I say, take this as a lesson learned when it comes to safety statements from a company trying to sell you something. Even when that company is as old and as highly esteemed as Sigg. Even when that company insists it's telling the truth. Where do we stand today? Sigg has released a new lining it claims is BPA free. For more commentary on this subject, see Sigg and BPA. I no longer use Sigg products myself.
My original review:
I confess I'm not immune to the allure of style. In this regard Sigg's Traveler bottles are a masterpiece of Alpine cool: choose your colors and prints from virtually hundreds of designs. You may not climb faster when you're carrying these sleek bottles, but you'll certainly look better doing it. But how will my water taste, you ask?
Absolutely, positively fantastic. Drinking water from a Sigg Bottle is like drinking sparkling water from a glass—water tastes crisp, odorless, and perfect, just the way nature intended. If you're tired of filtering pure, sparkling Sierra stream water into a container that makes it taste like ground-up greasy plastic, you'll love Sigg's Swiss-made water-neutrality.
There are a few situations in which Sigg bottles are probably not a good choice. The big one is winter camping. Your insulating sleeve probably won't fit over the Sigg's extended length (compared to a Nalgene bottle). In the event that you do take your Sigg with you in winter, be aware that if water freezes inside it, it could crack the aluminum casing, ruining the bottle permanently. So let's call these 3-season bottles when an overnight is involved.
Sigg's aluminum also cannot compete with polycarbonate, HDPE, or stainless steel when it comes to durability. If you drop a Sigg off a cliff, I wouldn't bet on its chances of survival. You'll also notice that knocks and dings start appearing on your Sigg as it suffers the usual indignities of aging and use. Sigg says these add character to the bottle's appearance. In any case, the bottle's liner is said to be flexible enough to cope with dings without being damaged.
Which brings us to the most important question: how safe is Sigg's liner? Sigg won't disclose the exact composition of the liner, other than calling it a 'water-based, non-toxic polymer perfected over decades of Swiss craftsmanship.' Sigg does cite several studies on its website indicating that the liner is stable even when the bottle is filled with citrus juices or alcohol, and has not been found to leach any harmful chemicals into water, including BPA.
Additionally, Sigg does include a lead-free paint statement, citing recent concerns over Chinese-made paints on cheaper products. Does that mean Sigg bottles are not made in China? I'm not sure. The best I can say is that you'll have to trust Sigg when they say their liners are safe. Given that they are a European company, I'm inclined to believe them.