Thermarest Neoair
ultralight
ultra-compact
R 2.4 insulation value
14oz
Thermarest's advanced Neoair ultralight sleeping pad promises to be at least as revolutionary as Thermarest's original inflatable pad.
The Neoair offers a radical improvement in every metric over Thermarest's Prolite-series inflatable pads: it is significantly lighter, it is warmer, and when deflated, it rolls up into a much, much smaller package. On the strength of its specs alone, early adopters made the Neoair perhaps the single most sought-after (and often sold-out) piece of gear in the year 2009.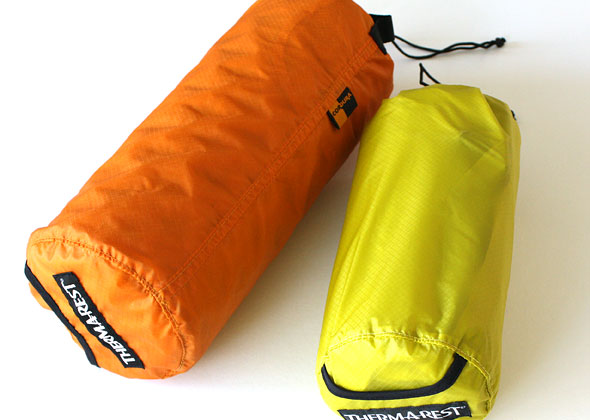 But can the Neoair deliver in-the-field performance to match its stunning showroom promise?
Out of the box, one of the first things you'll notice about the Neoair is its wonderful compactness. Thermarest says the Neoair rolls up as small as a 1-liter Nalgene water bottle.
I'd say that's an honest claim: with little fuss, my full-size (regular) Neoair pad rolls up slightly taller than a liter bottle, but certainly no bigger around. The medium and of course the small size Neoair pads will roll up even smaller. In contrast, my size-short Prolite pad rolls up into a considerably larger package, and a full-length Prolite is bigger still. Advantage: Neoair.
You will also notice that the Neoair is very, very light—lighter, in fact, than many equivalently sized foam pads. The Neoair achieves its low weight by being essentially an uninsulated air mattress. However, to make the Neoair useable in cool temperatures, Thermarest has added an internal reflective barrier to recapture radiant heat loss.
Comparing weight and warmth of the various Thermarest pads, we have the classic closed-cell foam Ridgerest, R-Value 2.6 at 14 ounces; the improved inflatable Prolite standard pad, R-Value 2.2 at 16 ounces; and the new 4-season Prolite Plus, R-Value 3.8 at 24 ounces. The full-size Neoair weighs 14 ounces (measured), and is roughly ten percent warmer than the 3-season Prolite pad, with an R-value of 2.5. Only the much-bulkier Ridgerest bests the Neoair's warmth-to-weight ratio.
The Neoair's level of insulation remains firmly in the three-season category. For winter, you'll want to supplement it with additional foam insulation beneath your core. This will be especially important with the Neoair because of its ultralight design. Puncture it, and it's insulation value goes to zero. In fact, winter campers and multi-day backpackers should put in a order for Thermarest's Neoair Repair Kit right away. The pad is made of ultralight fabrics and seems unlikely to survive sustained abuse.
For hardcore ultralight hikers it may be of little concern, but the Neoair provides a very comfortable night's rest. The pad inflates up to two and a half inches thick, making for a lofty, cushy mattress that is much better than average at smoothing out irregular ground. All together, the specs and functionality make the Neoair one of those rare game-changers in outdoor gear. You may wish to wait a bit before getting one for yourself to hear how well this brand-new pad survives real-world conditions. Then again, if you're like me, maybe you won't be able to wait!