Thermarest Prolite Plus
R3.8 insulation value
thicker, extra comfort
enough warmth for snow?
24 ounces
Obviously Thermarest's four-season Prolite 4 inflatable sleeping pad is warmer than the regular, three-season Prolite. The question is, how much warmer is it?
According to Thermarest, the Prolite Plus provides an R-value of 3.8 (20% better than its predecessor, the Prolite 4), which is unquestionably an improvement over the basic Prolite's 2.2 R-value. But having had the opportunity to winter camp using both 3 and 4-season versions of the Prolite pads, I'd have to say neither pad is ideal on its own for camping directly on snow.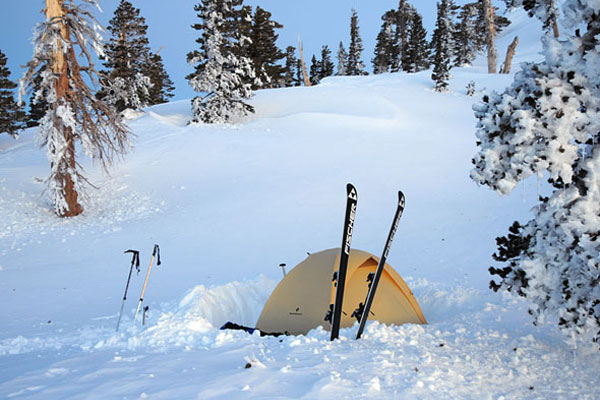 That doesn't mean, however, that the Prolite Plus is without its uses.
Compared to the basic Prolite pad, you do get quite a lot more warmth with the Prolite Plus, and this warmth will certainly be appreciated when sleeping in cold weather or on cold ground.
In fact, I'd recommend the Prolite Plus as a 3-season pad for anyone who tends to sleep cold in the wilderness (a class which includes myself). You'll sleep better and far more comfortably thanks to the extra insulation, even when temperatures don't seem particularly frosty. Really the only downside to the Prolite Plus is its extra weight (another 8 ounces), but I have to say it beats shivering.
As for winter camping, things get a little more complicated. People vary quite a lot when it comes to their anatomy and their metabolism rates, both of which impact your ability to stay warm while sleeping. As a basic strategy, it's hard to beat pairing an inflatable pad like the Prolite Plus or even the three-season Prolite with a foam pad when sleeping on snow.
I have used the Prolite Plus solo on snow as well, and it will certainly do in a pinch, though once again I'll recommend adding extra insulation for better comfort. You might also think about choosing a more dedicated winter pad like Exped's Downmat, which offers considerably more insulation than any Thermarest model.
As with all inflatable pads, you should probably carry a repair kit with you, particularly as temperatures drop and safety becomes more of an issue. Whether or not you do need the Prolite Plus's extra warmth, you will appreciate its extra thickness, which does make for a cushier mattress compared to the regular pad. Bottom line: for winter camping, I want more insulation than the Prolite Plus offers.