Volkl Bridge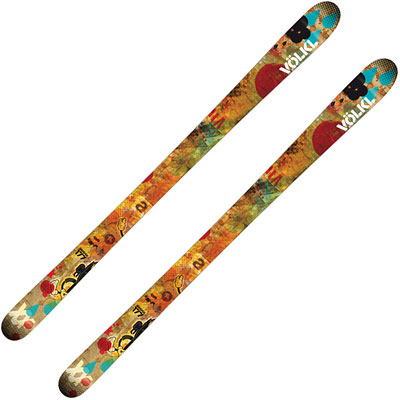 all-mountain
twin tip
park specialist
130-92-112mm
Volkl's twin-tip Bridge was designed to fuse the seemingly-incompatible worlds of Big Mountain skiing and park riding.
That may sound like a strange marriage, but the Bridge's stats make it look like a leaner, snappier version of the Mantra—at least until you put them on the snow and actually try them out. I'll just spoil the surprise right off the top and say that the Bridge didn't really hit me. I was expecting hardpack performance to be at least as good as the Mantra's. Instead, I thought the Bridge was significantly inferior on hard snow.
In powder, the Bridge did seem slightly better than the Mantra, offering perhaps a touch more quickness and flotation. This wasn't an especially obvious advantage, however. So, the sum for me was slightly better in deep snow, not nearly as good on hardpack. Most skiers of the cruiser/carver school will therefore likely be happier with the Mantra.
Note that I'm leaving out the considerable realm of park riding: my park days are long since past, I'm afraid, so I can't really offer an objective assessment of this dimension. Presumably the Mantra's grab on ice is exactly the sort of thing that's going to get you in trouble on rails and half pipes, so the detuned feel of the Bridge may in fact be ideal for those applications.
If that's the case, then I'd have to say maybe the Bridge really does fuse Big Mountain and Park realms (emphasis on Park). But for those of us who aren't venturing into the parks that much these days, the Big Mountain performance isn't much to get excited about. There are better powder skis (ie, the Gotama), and there are certainly better skis on hardpack.