Black Diamond Carbon Convert (2015)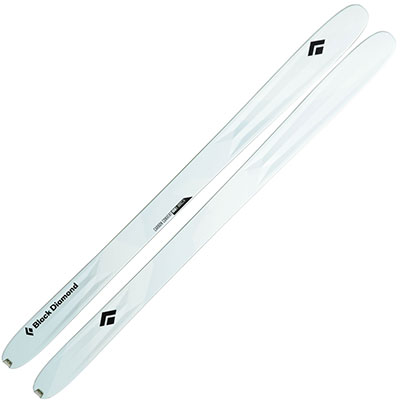 powder pleasure
credible frontside
133-105-117mm
6lbs 8oz/pair (180cm)
November 14, 2014
If you ask me, Black Diamond has been victimized, to an extent, by the very same perfect powder that makes Utah skiing so famous.
Skis tuned to perform in that incomparable Wasatch snow just don't tend to translate as well in other, less amenable climates. For that reason, reviewing Black Diamond skis always makes me anxious. They're a great ski company, no question...but (sorry!) they just don't seem to know how to make a great all-mountain Alpine ski.
That's a reality Black Diamond seems to be acknowledging, subtly, with a move away from a dedicated frontside line toward skis more focused on pure powder and touring. The new Carbon Convert is one such ski, and I am pleased to say it impressed me on a variety of snow types.
On hard snow I found the Carbon Convert offered easily the most balanced, natural ride of any Black Diamond ski I've ever tried. Torsional rigidity is good, and edge grip is likewise good without being strident. That is not to say the ski is a true frontside carver; rather, think of it as "fairly credible" on hard snow—which is, to be fair, really all we ask of our touring planks.
Black Diamond's mutants have done a good job with the carbon, which is blended with an ultralight "engineered" wood core to strike a nice balance between damp and active. Yes, as the snow hardens, the Carbon Convert gets nervous, but it doesn't wash out or become unmanageable in the way that, for example, the Justice did.
As we move in the other direction, to softer snow, the feel is quite good. There is a lot of rocker in the Convert's tip, which means you'll want to ride these at longer than your usual length. I skied a 188, and would probably drop no shorter than 180. The ski isn't quite as quick in chop as I'd like, but it does feel silky and fun, with a noticeable 'Big Mountain' tilt in powder.
While not so ephemeral as La Sportiva's Vapor Nano, the Carbon Convert is still quite a light ski for the surface area—less than seven pounds per pair even at the 188cm mark. I think we have to call these a very strong touring contender, with a nice fat 105mm underfoot for your powder laps, and the hard snow credibility to cope with shady couloir surprises—all at a carbon-friendly price.