Dynafit Huascaran (2015)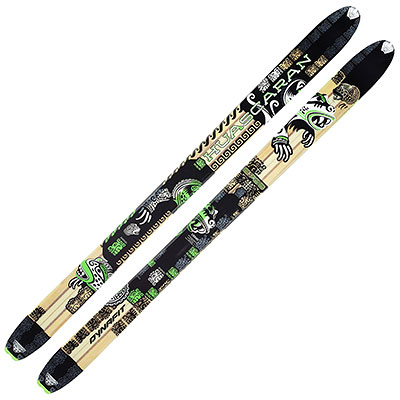 smooth & playful
powder/touring
134-112-123
7.8lbs/pair (177cm)
Dynafit's Huascaran took me completely by surprise. With the Huascaran we know we're getting a light ski, but who could have expected how solid it is?
Skiing the Huascaran in-bounds at Copper Mountain, I got no sense I was on an underweight touring plank. To the contrary, the ski seemed right at home across a variety of frontside conditions, demonstrating a smooth, playful character that was surprisingly adept carving short, medium, and long-radius turns on groomed snow.
No, the Huascaran does not have the beefy feel of a Shiro or a Patron, but to me that's a positive. Obviously the Huascaran's sub-eight pound weight is great for touring, but inbounds or out the ski features a quick and lively ride. In fact, the Huascaran reminds me of Solomon's old powder specialist, the Czar.
Both skis have that magical quick-n-damp feeling that is the hallmark of the very best powder performers. Unlike the Czar, however, the Huascaran's rocker doesn't become problematic on groomed snow—and the Huascaran is nearly two full pounds lighter per pair. For powder and big-mountain touring use, this is an outstanding ski.
In terms of width and flotation, the 112mm Huascaran is at the upper limits of what I'd consider appropriate for my own needs. But the ski never struck me as clunky, despite its width. For a more modern comparison, I think the Huascaran is a worthy competitor to Rossignol's Soul 7. They are different skis, to be sure, but they both thrive in soft conditions.
I described the Huascaran as "delightful" in my on-snow notes at SIA, and the ski has subsequently earned my highest endorsement: I bought a pair for myself. I wanted a dedicated powder tourer, and I also wanted a bit more flotation for late season Sierra descents when things get mushy. Stay tuned here for evolving comments on the Huascaran, as I get to know it better...