La Sportiva Vapor Nano (2015)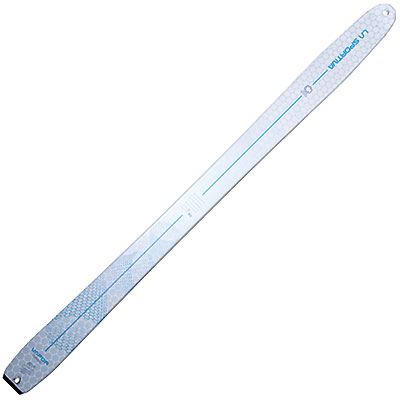 light!
abundant flotation
uneven performance
5.29lbs/pair (180cm)
November 12, 2014
If you want a ski with lots of surface area and very, very little weight, La Sportiva presents the aptly-named Vapor Nano: 103mm underfoot and 5.29lbs per pair (spec).
The Vapor Nano is a carbon fiber ski, and an expensive one at that, featuring what Sportiva calls "Nanotube" construction, a nano-ish technology designed to deliver torsional rigidity at the lowest possible weight. Does it work? Yes, you get both qualities with the Vapor Nano, making for an unexpectedly good frontside ride.
Find the turn the Vapor Nano likes to make, and you may even go so far as to call it a frontside ripper (as La Sportiva's technicians proudly claimed when I stopped by to demo it). Move away from that preferred turn shape, however, and performance deteriorates dramatically.
You'll notice an abundance of 3d, progressive geometry: a spoony, aggressively-rockered tip, traditional sidecut and camber underfoot, and a mountaineering-friendly flat tail with a hint of a pintail exit. These various design elements aren't as well-integrated as in the best of today's modern skis, but they do come together in a good-enough way that makes the Nano quite versatile.
Deep snow, to me, emerged as a weakness. The ski isn't as quick in powder as I'd prefer, and the feel, in its less successful moments, is skittish—the ski constantly reminds the rider how light it is (particularly in choppy snow). That said, this is a touring ski, not a frontside plank, and for touring it's hard to argue with the Nano's spectacularly low weight.
Your own assessment of the ski will likely vary in direct proportion to how important weight is to you. If you can bear to add another pound or two to your load, you can get on skis like the Huascaran—and that's not a competition the Vapor Nano is going to win. If weight trumps all, however, I don't see anything else out there offering remotely this level of performance at five pounds per pair.