Black Diamond Dry Tool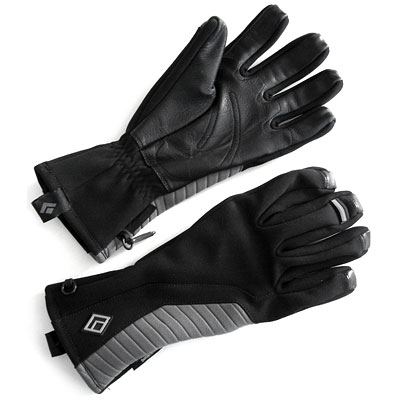 excellent grip
neoprene cumbersome
minimal insulation
4.7 ounces
Climbing a steep snowy slope with an ice axe puts your hands in contact with a lot of water. If you wear ordinary ski gloves, they'll quickly get soaked, even if its cold.
Black Diamond's Dry Tool merges a neoprene shell with a very tacky Pittard's goat-leather palm for outstanding grip and water resistance. While Neoprene is itself completely waterproof, the fabric does tend to soak over time in the wettest environments (as does the leather grip). Waterfall climbers may wish to look elsewhere. As a cold-weather (ie, winter) glove, the neoprene does not offer enough insulation on its own, unless your hands tend to run unusually warm.
I used these gloves for an extended, thousand-plus vertical foot self-arrest practice session on Mount Williamson's west face in very wet conditions. Hidden ice in the mushy spring neve made for a severe test of the Dry Tool's grip. The ice and snow repeatedly tried to wrench my axe from my hands. Thanks to the outstanding tackiness of the leather palm, however, the ice lost.
My axe stayed firmly in my hands—and my hands stayed mostly dry. The Dry Tool glove, as its name suggests, was actually designed for dry tooling (using an ice axe to climb bare rock routes). In this regard, the glove's not-total waterproofness is obviously not a liability. The leather palm, however, is a tad on the delicate side, making it easy to tear on sharp rock.
I find the Dry Tool's neoprene construction a bit cumbersome. Neoprene is stiff, resisting flexing and motion. That can make wearing the Dry Tool feel like a workout—if you're trying to do anything dexterous with your fingers, or even gripping your ski pole handles. The Dry Tool has an attractively low weight, at only 4.7 ounces (Men's medium, measured). However, with such a limited temperature range, relatively delicate palms, and a stiff feel, perhaps it's no surprise the Dry Tool glove has been discontinued in favor of newer designs.