Black Diamond Torque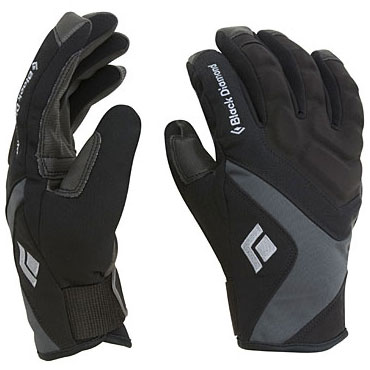 outstanding grip
softshell stretch
warm weather only
2.8oz/pair
At a meager 2.8 ounces (men's medium, measured), the Black Diamond Torque is ideal for filling the spring climbing niche in your glove collection.
The Torque is an ultralight spring glove designed specifically for drytooling—that is, climbing dry rock using ice tools (axes). The Torque is not waterproof, but as you'd expect, it does offer outstanding grip on smooth ice axe shafts thanks to its ultra-tacky synthetic palm. Black Diamond calls the Torque's grip "unprecedented", and I'll not disagree. Grab your axe with these gloves, and your hands feel bolted-on.
Additional climbing-specific features include thermoformed pads over the knuckles and fingers to help prevent bashing and bruising when you're swinging hard to get your pick to bite, and a wrist-cinch to lock the glove down. Fit and feel are good. Though not as nimble as a powerstretch liner, the Torque glove won't make you feel like you're climbing in mittens. On the interior, the lack of any lining fabric gives the glove a rather Spartan feel.
The Torque is a superior choice for warm-weather climbing, including ice routes, on the strength of its ultralight weight and its raw functionality. The glove's soft shell fabric does shed moisture, but it will soak over time, so you won't want to carry these as your only glove if there's any chance your fingers will get cold.
Ski mountaineers may find the Torque useful for Spring climbing. The glove simply doesn't offer enough insulation on its own, however, for you to comfortably use it as your only glove in the backcountry unless you'd be comfortable bare-handed. You may be able to push the temperature rating depending on personal preference, but since the Torque isn't waterproof, I wouldn't rely on it as your only line of defense.