Icebreaker Quantum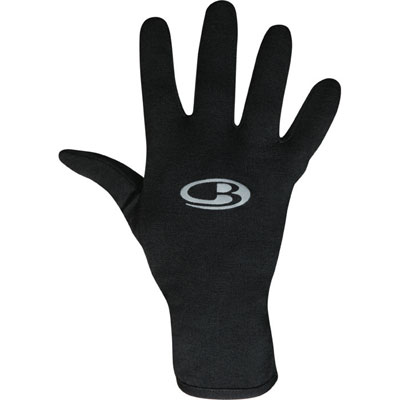 grip print on palm
merino wool/elastane
fit a little baggy
1.4oz/pair
As I rule I always carry two pairs of gloves in the backcountry: a heavier pair for warmth, and a lighter pair for everything else.
Icebreaker's Grip-Print Quantum is an ultralight liner-style glove made of Icebreaker's GT260 wool. If I'm interpreting the label correctly (98% Merino wool, 2% Elastane), the glove itself is pure Merino wool, and the "Grip Print" accounts for the synthetic component. Either way, the appealing feature for me is the grip print texture on the palm.
The truth is I do almost all my climbing/ascending in liner gloves to keep my main gloves dry.
Whether grasping skis, ski poles, or ice axe shafts, a little grip on your liners goes a long way. I will admit, the Quantum's grip-print placement is a little odd.
However, the Elastane dots do prove admirably sticky when it comes to gripping smooth metal, placing the Quantum glove solidly in the above-average category (for liners) when it comes to tool use. That said, Icebreaker went a little batty with the dots, extending them all the way to the wrist. At the same time, the dots are conspicuously missing on the middle and ring fingers, as well as on the thumbs. Move those dots, I say, from the useless wrist placement to thumb and missing fingers, and you'd have a liner-grip champion on your hands (literally).
As is, the Quantum's grip is good rather than great, and the undeniably loud visual impact of the dot placement could potentially motivate you to suddenly break out into a Broadway number. Other complaints? For my taste, the Quantum Glove is a little baggy when it comes to fit. I assume this is a consequence of the pure-wool construction. A little Lycra in the body of the glove would be much appreciated, to give the glove more of the svelte fit of, say, a good Powerstretch liner.
Warmth is about what you'd expect for a lightweight liner like this: light. However, if you use them for going up rather than down, as I tend to, you don't need insulation so much as sun protection. Being wool rather than synthetic, the Quantum Glove will remain comfortable even when it gets wet, and, being so thin, it's likely to dry quickly. Overall, it's a solid choice—and an absolute homerun if you ever need to improvise a performance art piece in the backcountry.
Update: the 2011 Quantum glove has a decidedly more muted grip print. Expect about the same performance, grip-wise, but much less bold of a fashion statement.