North Face Pamir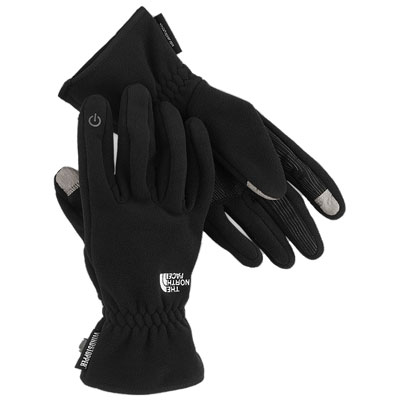 windstopper fleece
siliconized palm
grip disappoints
2.8oz/pair
The North Face's lightweight Pamir is a Gore-tex Windstopper glove that attempts to address the typical grip liabilities of fleece via silicon texturing.
While I am a big proponent of using wind-blocking fleece gloves as a one-size-fits-all solution in the backcountry, fleece, on its own, tends to feel nearly frictionless on smooth, hard surfaces. To deal with this vexing issue, North Face has added a siliconized lattice to the Pamir's palm (see detail photo) to enhance the glove's ability to securely grip ice axe handles and ski pole shafts. New to this year's Pamir is the dubious 'ETIP' click-compatible thumb, so you can better operate your digital devices.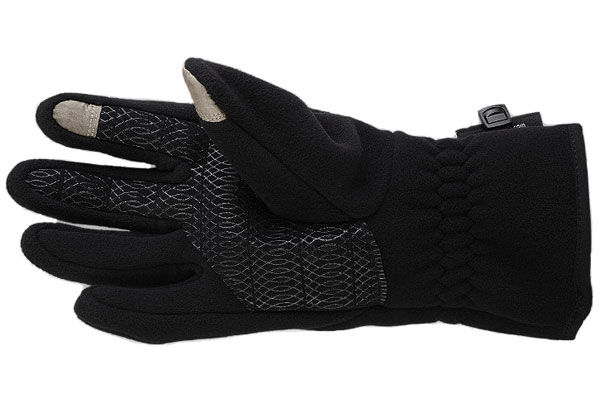 Adding silicon patches or other 'sticky' materials to fleece is not unique to North Face and the Pamir. Other glove makers have their own grip-enhancing strategies.
What is notable about the Pamir, however, is the extent of the siliconized area.
What is also notable, alas, is the overall lack of effectiveness. To be sure, the Pamir glove's grip is better than a pure fleece palm. It is not significantly better, however, in the sense that your hands will still slip and slide on metal tool shafts, bringing unwanted fatigue and worry. Compare the Pamir's so-so grip to that of a lockdown dry-tool glove like Black Diamond's Torque, for example, and the difference is glaringly obvious.
Why isn't the silicon grip more effective? First, because of placement: not enough on the thumb, and none at all on the smaller two fingers. Second, because fleece is inherently a stretchy, soft fabric, so that give itself permits play even when the grip isn't slipping. So, if secure grip is a priority, the Pamir is a disappointment.
If grip isn't your top priority, you may still find the Pamir a tad lacking. The glove pays a price for its extensive siliconized area, in the form of a noticeably stiffer, less comfortable feel that impedes easy curling of the fingers (note: the 2011 version is a tad better in this regard). It will also be more difficult to use the Pamir as a liner glove in an outer shell, as here the added friction will indeed come into play.