Black Diamond Ion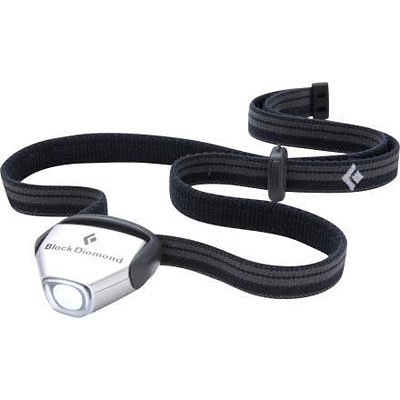 teeny-tiny
great emergency/backup light
improved output
1.3oz w/6V battery
The original Black Diamond Ion was a groovy little ultralight headlamp that provided plenty of light for finding gear or the bathroom in the dark.
The Ion was a tad dim, however, and had a fairly short useable battery life—as I discovered firsthand when I used the Ion as my primary headlamp on a one-day Mt. Shasta climb. Thankfully, Black Diamond has revised the Ion, turning what was a functional but limited backup light into a viable contender for the only headlamp you'll need. The new Ion is lighter, brighter, and lasts longer. How did Black Diamond accomplish this bit of wizzardry? I don't know, but I'm sure glad they did.
I rarely use a headlamp in summer, so my primary concern is weight. At 1.3 ounces, battery included, the Ion is likely the lightest headlamp you can get today. It's light enough and small enough to put permanently in your first aid kid to carry as an emergency source. But the two-level Ion is also surprisingly bright—only slightly dimmer, for example, than Black Diamond's Gizmo headlamp.
And Black Diamond has beefed up the weather protection. They now say the Ion will withstand, "apocalyptic levels of rain and sleet." That's good enough for my needs. Hardcore climbers will of course want bigger, heavier headlamps if they're going to be doing technical work in prolonged darkness. And beware: the Ion's burn time is 15 hours on low, but only 3 hours on high, which means you'll be in the dark if you switch it to high for an all-nighter.
Note that the Ion uses a 6V battery. These used to be hard to find, but with the advent of today's digital photography, you can usually nab a 6V battery at any grocery store. I say so long as you're reasonable in what you ask of it, the Ion is a perfect headlamp. If all you need is a camp light, the Ion is superb. And even if you need to do a few hours of trail hiking in the dark, the Ion should do just fine with a fresh battery inside. Really, the limit here is burn time rather than brightness. Stay away from that 15 hour time limit, and you won't want to carry any other headlamp in the backcountry.