Petzl Tikka 2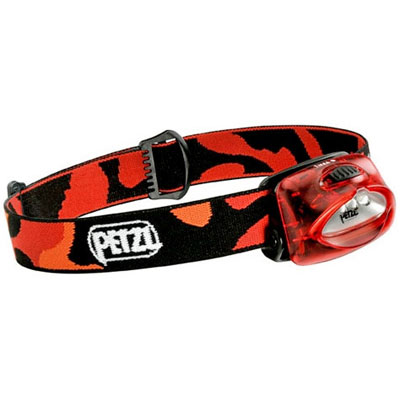 lightweight
generous output
120hr burn time
2.86oz w/3AAA batteries
Petzl's Tikka falls into that happy category of compact, economical headlamps that compare quite nicely with more expensive, technical climbing lights.
The updated Tikka 2 is a 4-bulb LED headlamp with an abundant 120 hour burn time (in economy mode). In-hand the Tikka is small and light—only 2.75 ounces (measured) including its three AAA batteries. On the trail, the Tikka's output is generous—noticeably brighter, say, than the Tikka's close competitor, the Black Diamond Gizmo (though either model is easily bright enough for trail hiking).
The Tikka is water-resistant, with an IP X4 rating that translates to 'Water splashing against the enclosure from any direction shall have no harmful effect.' In practice, that likely means you can use the Tikka with confidence in most all conditions short of torrential rain—and maybe even then in a pinch.
I ran the Tikka as my primary headlamp for a little mad dash up the Sierra's Shepherd Pass Trail in the middle of the night, starting hiking around 12 a.m. This journey included some off-trail climbing on snow, which was a good test of the Tikka's output. After climbing some six hours in darkness I was impressed with the Tikka's ease of use and performance. The Tikka produces a broad, bright, diffuse beam that easily lights the way ahead.
The only possible bone of contention I can come up with is the angle of the lamp's housing. If you want to aim the beam far ahead to shine primarily in the distance rather than at the trail, the housing won't angle high enough. I'd prefer the design allow you to point the light off into space if you so chose.
The Tikka's output isn't going to compare to much heavier, spotlight-style headlamps. But most hikers and even climbers aren't going to need that much light—and the Tikka's 40 lumen output is by no means skimpy. If you want a hiking/scrambling headlamp, or just a walking-around-camp light, the Tikka's light weight and extra-long burn time make it a fine choice.