Black Diamond Quadrant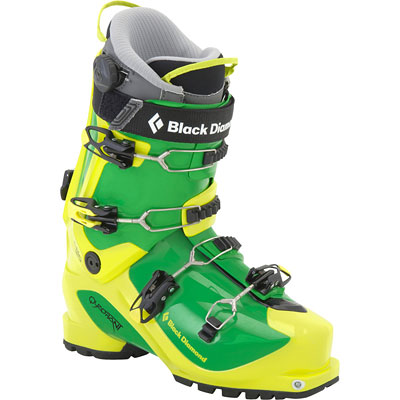 expansive volume in forefoot
variable performance (by fit)
Achilles pads complicate liner fit
7lbs 4oz/pair
Some relationships define themselves immediately. Others refuse easy explanation. That's about where I find myself with Black Diamond's stubbornly-ambiguous Quadrant A/T ski boot.
In terms of niche the Quadrant competes directly with Garmont's excellent Radium, seeking to offer high performance at a tour-competitive weight. It's easy to quantify the Quadrant's weight—a measured seven pounds, four ounces per pair (Mondo 26.5/300mm shell). Getting a definitive feel for the boot's on-the-snow performance, however, has thus far eluded me.
The heart of the problem concerns fit. I've all but concluded that the Quadrant just wasn't designed for my foot. It feels odd to say that, because my foot is fairly unremarkable, and generally amenable to a wide range of shell shapes. But I do have a slightly narrow, slightly lower-volume foot, and that has proven to be almost irreconcilably at odds with the Quadrant's short, squat shell design.
As if that weren't enough, I continue to take issue with the design of Black Diamond's liners, which include an embedded, non-removable hard shim in the vicinity of the ankle, called the 'Achilles pad insert'. That foam insert caused me no end of grief, in much the same way that it did with my Black Diamond Factors (please see my Factor review for more on that subject).
On the positive side, smart and snappy design choices abound with the Quadrant, including tech fittings, an effective walk mode, a true, flat boot board beneath your feet to set your custom orthotic on, and slightly hook-shaped buckles to hold the buckles in place when they're not cinched down (fair warning: some users feel the buckles are a pain in the ass).
But for me, fit dominates the discussion. The nature of the Quadrant's high volume shell demands a high volume liner to fill it. Additionally, the flex pattern of the boot seems dependent on flex-specific features built into Black Diamond's Efficient Fit Liner, meaning you can't easily swap out to a different liner (ie, an Intuition) to alter fit. For example, I tried riding the Quadrant using my modified Factor liners. The result was a sloppy/loose fit and—surprisingly—a much softer forward flex profile.
Paradoxically, when I ride the Quadrant using its stock liner, the fit is uncomfortably (almost unbearably) snug. However...the flex profile definitely improves. My experience with the boot seems to suggest it has multiple personalities, each dependent on liner and foot and fit. That is certainly true to some extent of all ski boots, which is why conventional wisdom suggests you choose your boot based on fit rather than specific model. That said, I feel the Quadrant is one of the more fit-critical boots I've encountered.
The ideal profile of the Quadrant rider, then, would seem to be someone with a short, wide foot. Note that other reviewers have specifically praised the Quadrant for its comfort, criticized it for softness, praised it for stiffness, and criticized it for lack of comfort, so there you go: clear as mud. Ultimately, I'm sorry to say quantifying the Quadrant has defeated me. I haven't figured this boot out—and I doubt I ever will.