Black Diamond System GTX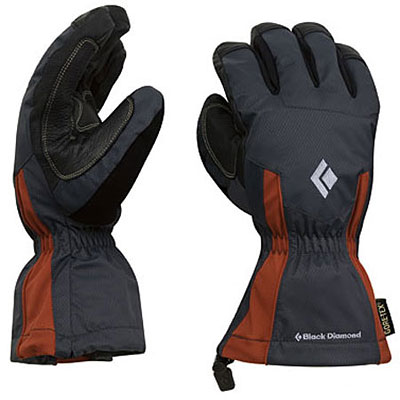 versatility
waterproof shell
liner-compatible
6.1oz/pair
Black Diamond's System Shell GTX glove is a waterproof (via Gore-Tex insert) shell glove intended to be paired with liner gloves (not included).
The System GTX addresses one of the more vexing dilemmas of overnight backcountry travel: the need to bring a waterproof glove versus the desire to carry as little weight and bulk as possible. Paired with a liner, the System can do the duty of a heavy glove, while remaining useful in warm weather. Weighing only 6.1 ounces per pair (men's medium, measured), the System GTX is wonderfully light, yet robust enough to get you through a wide range of temperatures and situations.
Climbing a steep chute in spring when the snow is wet? Wear the System alone, and enjoy the tacky Pitard's leather palm for a firm grip on your ice axe shaft. Facing unexpectedly cold weather? Pair your System Shells with a warm fleece liner glove, and you've got a system that'll get you nearly all the way down to mitten temperatures. Versatility is the name of the game here, making this a fine choice for the backcountry skier or winter camper.
Downside? When paired with a liner, the System GTX is slightly more cumbersome than an integrated insulated glove. It can also be tedious to put on and take off a liner/shell pair if you have to do it repeatedly—because the fingers can get out of alignment. If you know you will be needing the shell and liner continuously, ie because of cold temperatures, you may find it more convenient to bring a traditional winter glove.
Unfortunately, Black Diamond has discontinued the System GTX Shell. However, many of the current gloves in the Black Diamond lineup employ this shell/removable liner design. If you want to expand your glove system's versatility, try giving a shell/liner system a try.