Coleman F1 Exponent Ultralight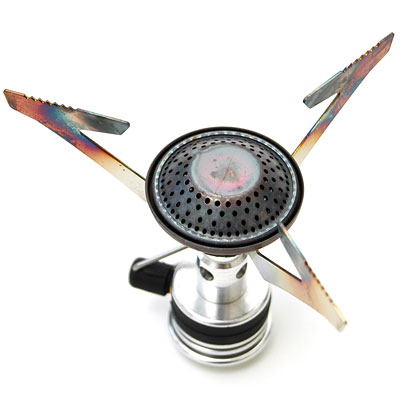 Fuel Efficient
16,400 BTU Output
Wind-resistant
2.7 ounces
Coleman's F1 Ultralight stoves offers a fine mix of power and efficiency, making it a top pick for backpackers. Unfortunately, the stove is discontinued and hard to find.
Not only is this among the lightest stoves available (at 2.7 ounces), it also puts out a formidable 16,000 BTU's of heat, easily besting nearly every other stove in its class. With the Coleman F1, you've got the power to quickly melt snow or boil water—even in less than ideal conditions.
Canister stoves are notoriously poor performers in wind and cold. In fact, many canister stoves struggle to bring water to a boil in even a modest wind (something I have personally experienced in the field). Not so the Coleman: thanks to its large burner head, the F1 is remarkably resistant to wind. This not only allows the Coleman to boil water in real-world conditions—it allows the stove to do so efficiently, which is of crucial importance.
The burner head also let you simmer as well as boil with the F1. It's easy to adjust the stove to a wide range of outputs. Because the F1 uses a three-leg design, rather than four, it doesn't provide quite as stable a cooking platform as other models, such as Snow Peak's Giga Power. I haven't had any problems with cold weather performance. I do tend to use MSR's IsoPro fuel canisters with the F1, as these seem to give the best performance in below-freezing temperatures.
When you're done cooking, the Coleman F1 breaks down into a very tidy package that slips into the supplied pouch. For both price and performance, this is easily one of the better traditional canister stoves on the market. That said, there are newer integrated stove systems (Jetboil's in particular) that may make you rethink your stove strategy. The Coleman remains one of my favorites of the old guard, but I've long since upgraded to a newer design.