Jetboil Sol Ti
lighter!
improved cold performance
fuel-efficient
8.7 oz*
Ever since I got my Jetboil PCS stove, I haven't used another backpacking stove in the backcountry—that's how much I like it, despite the extra weight.
But there's a new sheriff in town, and its name is the Jetboil Sol Ti, offering improved cold-weather performance at very nearly half the weight of the venerable PCS. I've got to say, the weight savings alone make this a must-have for me. Add in the improved cold weather functionality and you can see why I got one as soon as I learned of its existence.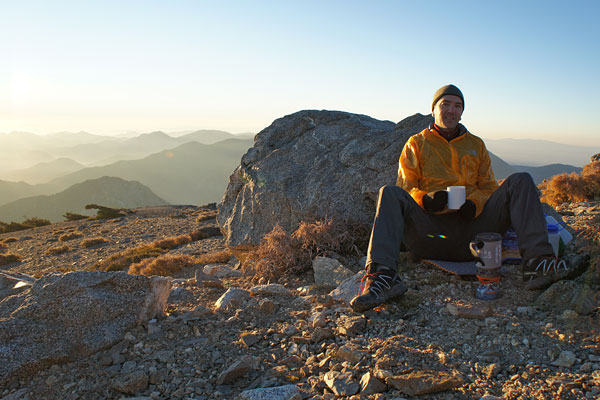 What makes the Jetboil system so appealing? Convenience plus efficiency. Both the PCS and the Sol Ti are self-contained, including cook pot, cup, lid, and burner.
With a heat exchanger built right into the pot, the stove delivers stunning fuel efficiency and ultra-short boil times.
One knock on the Jetboils has been that they're best for boiling water, rather than backcountry cooking. To address this issue, the Sol Ti ships with both a stabilizer leg attachment and a stove top adapter which will allow you to cook using any pot or pan (within reason). Jetboil stoves have always been good at simmering, so this is good news indeed for backcountry gourmets.
I can't say I've noticed particular problems in cold weather using my PCS stove, but the Sol Ti does address performance in cold weather with the addition of a regulator to deliver consistent heat output (down to 20° F). Boil times are very slightly longer than the PCS model—two minutes, fifteen seconds to boil half a liter of water. Total efficiency remains the same: 12 liters boiled per fuel canister.
Note that the Titanium cookpot is a bit more delicate than the PCS's aluminum pot. Jetboil warns you must be sure to keep water in the Ti pot at all times when cooking, otherwise the pot's heat-conducting fins can melt. Pot size has been subtly reduced with the Ti, to .8 liters from the PCS's 1.0 liter size. In practice, you won't miss the extra volume, but you will appreciate the more compact size.
As for weights and measures, with all parts plus adapter and stabilizer, the Sol Ti weighs 12.2 ounces. Minimum functional configuration would be cookpot plus burner, at 8.0 ounces. *Add the lid for a practical minimum of 8.7 ounces—very nice. Be aware that Jetboil also makes a regular (aluminum) version of the Sol stove, which weighs two ounces more.
Really, I don't think there is anything not to love about this new addition to the Jetboil lineup. It is pricey, yes, but the weigh savings are huge, making the Sol Ti competitive with the lightest canister stove configurations you can currently put together. Factor in the Sol Ti's performance and fuel efficiency, and the Sol Ti might actually weigh less. Fantastic!