Snow Peak GigaPower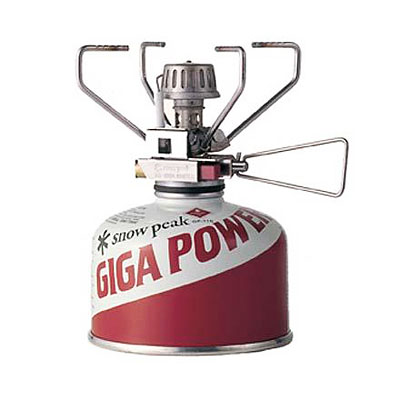 lightweight
potent output
less efficient in wind
3.5 ounces
Snow Peak's GigaPower cannister stove has been a market favorite, thanks to its light weight, potent heat output, and compact size.
The GigaPower, in fact, won a 1999 Editor's Choice award from Backpacker Magazine. In the field I've had mixed results with the GigaPower: the 10,000 BTU stove lights and operates flawlessly, and brings a formidable amount of heat to bear on your cook pot. But it does more sensitive than average to wind, even when using its optional accessory windscreen.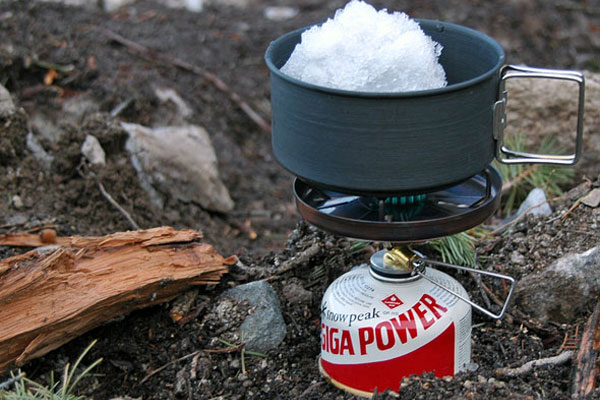 The Snow Peak GigaPower is a canister stove which runs on Snow Peak isobutane, a mixture of propane and butane which allows the stove to operate in cold temperatures.
Despite the GigaPower's extremely compact size, the stove offers excellent pot stability thanks to its four fold-out support legs.
Snow Peak makes the Giga Power in several versions, including the original stainless steel stove, a lighter Titanium model, and auto-ignition versions of both. As mentioned, there is an optional windscreen. Wind does seem to be the GigaPower's nemesis, increasing the time required to bring water to a boil, or, in the worst case, rendering the stove unable to boil water at all.
The optional windscreen does help, albeit somewhat—but it also adds 3 ounces to the stove's weight. Without wind, the GigaPower is certainly a reliable and powerful performer, and it will deliver fine fuel efficiency as well. With wind, the GigaPower varies from barely adaquate to worse.
This is a problem with all canister stoves, to some extent. However, if you do frequently travel in windy areas, the Coleman F1 Ultralight may be a better option. There are also a crop of newer canister stoves on the market, including MSR's Reactor and the Jetboil system, and GigaPower's new LiteMax, which are less vulnerable to wind effects. Unless you're particularly tempted by the GigaPower's low price, I'd go with one of the newer models.