Gerber Air Ranger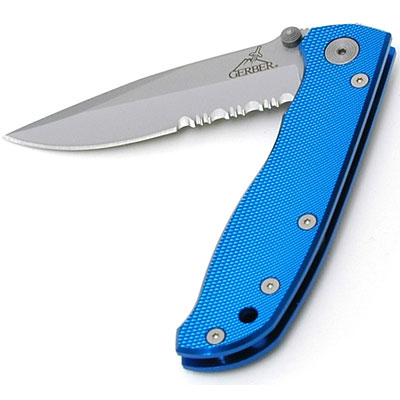 gerber steel
thin profile
custom balance
2.7 ounces
Gerber has a deserved reputation as a maker of "legendary" blades, and their Harsey Air Ranger therefore has a host of features to distinguish it from lesser folding knives.
As its name implies, the Air Ranger is designed by Bill Harsey Jr., an award-winning custom knife maker who has done work for many of the world's most respected military units, including the British SAS and of course the Navy SEALS.
Harsey's knives are designed to orient quickly in the hand, giving the user control and an innate sense of the edge's position, even in total darkness.
Aside from the blade's quality and superb balance, the Air Ranger is unusually light: only 2.7 ounces (versus seven for my other folding knife), making this a good choice for mountaineers looking for a full-service knife without the usual weight.
Commandos and fishermen will appreciate the blade's partially serrated edge. As you'd expect from a Gerber knife, the steel is about as good as you can get—it will hold an extremely keen edge. Gerber has also given the blade a matte finish, to prevent it flashing in the sun and giving your position away to the enemy.