Gerber Mini-Paraframe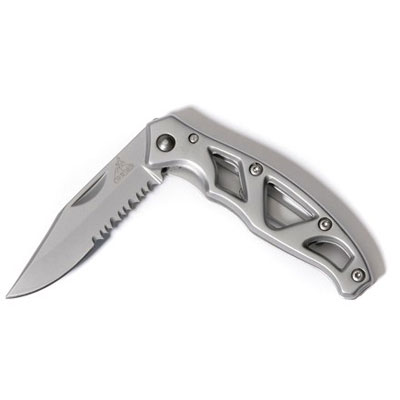 tiny
functional
2.25" blade
1.4 ounces
Gerber's Mini Paraframe folding knife is a good choice for situations where you need something larger than a keychain knife, but you're not willing to carry any extra weight.
The Mini Paraframe's rugged 2.25" blade delivers all the performance you'd expect of a full-size Gerber while weighing a very slender 1.4 ounces. I say this is the perfect blade to carry while rock climbing, in case you need to quickly cut through a jammed rope—or maybe ditch an annoying partner, Vertical Limit-style.
You can easily remove the belt clip to drop the weight a smidge lower. The Mini comes in a serrated and smooth edge options. The Mini's price is low enough to put it in the stocking-stuffer category—but this is a real knife! It fits well in-hand despite its tiny size, and you can do an impressive amount of work with it. Overall length when folded is just over three inches.
Obviously, the Mini Paraframe won't compete with a large blade, like Gerber's Air Ranger, but I don't think you'll find a better performer at such a compact size. You also get Gerber's impressive steel with the Mini Paraframe. These blades seem stronger and sharper than just about anything else out there. Nice.