Swiss Army Classic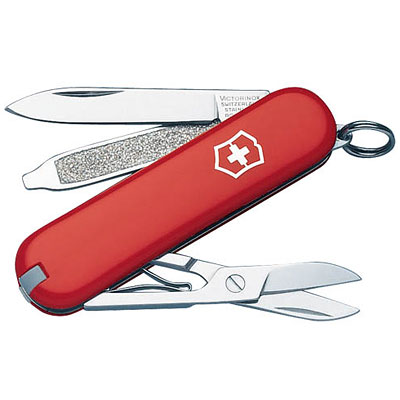 ultra-compact
multi-tool
1.25" blade
1.3 ounces
Victorinox's Classic Swiss Army Knife is one of those gear favorites that always makes it into my backpack. The Classic (also called the Classic SD) is an ultra-compact keychain knife with exactly the right tools to make it indespensible in the backcountry.
Scissors? Check. Tweezers? Check. Add one screwdriver tip, a toothpick, and of course a super-sharp Swiss Army blade and you've got a versatile 1.3 ounce multi-tool that fits discretely in your first aid kit. Closed length is 2.25 inches.
Obviously, the Victorinox Classic isn't a substitute for a survival knife. If you are planning on building your own shelter, for example, you're going to need a heftier blade. But for the myriad tasks that you are likely to encounter while hiking, camping, and climbing, the Classic has all the functionality you're likely to need. The blade is very sharp and will easily cut rope.
The scissors are sharp as well, and prove so useful in this size you may find yourself looking for your Classic whether you're in the wild or at home. Use them to cut moleskin for blisters, shave stray threads off your socks, clothes, or pack, trim your fingernails, whatever. The tweezers are great for nabbing splinters or stray eyelashes.
Swiss Army knives come in a variety of flavors, but I must say I tend to prefer this, the smallest of the bunch. It's got what I need and nothing superfluous, and the compact size and weight can't be beat. You can get the Classic in a variety of colors, including translucent red, green, and blue. As I say, this is one of the few gear items I always carry—and always end up using. I highly recommend it.