North Face Verto S4K GTX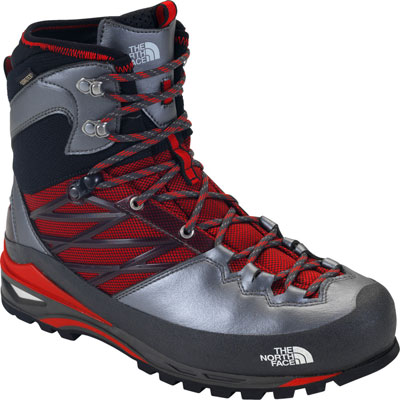 outstanding toebox
excellent stability
balanced
3 lbs 6.6 ounces/pair
The North Face was tired of seeing their elite athletes in other makers' boots, so they decided to make a boot of their own. The result of that effort is the Verto S4K GTX.
The Verto is a technical/mountaineering boot very much in the class of La Sportiva's popular Trango S Evo. In-hand the Verto S4K feels quite a bit beefier than the Trango, but it turns out they're almost identical in weight: 3 pounds, 6.6 ounces per pair on my scale (men's 42.5), exactly one ounce heavier than my La Sportivas.
North Face was obviously going for the high-end jugular with the Verto, and I have to say I think they've succeeded. The quality of construction and materials is off the chart—this boot feels like it's forged from solid steel. As you'd expect, the boot offers quite a bit of structural stability, including outstanding lateral rigidity. What is a surprise, however, is how natural the Verto's stride feels.
Mountaineering boots are not hiking boots. They are heavier, stiffer, always waterproof, usually insulated, and designed to be crampon-compatible. These design imperatives tend to force compromises in the walking department: mountaineering boots have a clunky, clog-like feel to them which can quickly become fatiguing on plain ground. I'm not going to say that TNF has worked magic in this regard, but the Verto's stride does feel noticeably more natural than my Sportivas.
Comparing the two boots head-to-head up and down a steep trail, the Verto felt more balanced—I felt like I was 'on top' of the boot, whereas with the Trango I felt a touch off-center. Laterally, even loosely laced the Verto is impressive. The boot held my foot comfortably but firmly in place. I must particularly commend the Verto S4K's toe box—it is a work of art.
At least for my low-to-average volume foot, the fit throughout the toe was outstanding, neither loose nor constricting, completely comfortable when hiking downhill, certainly the best toe I've yet found in a mountaineering-class boot. Liabilities? They're not hiking boots—stride is definitely not as fluid as with a dedicated hiker. And for those of you who are ounce-counters, they do weigh an ounce more (per pair) than the Trango S EVO.
I hesitate to make a final pronouncement because as yet I haven't done anything heroic in the Verto—just easy day hikes. But everything I've seen so far encourages me to believe I'll be switching to the Verto as my primary mountaineering (ie, technical) boot. Beyond question, this is a very impressive debut from The North Face. Recommended.