La Sportiva Xplorer Mid GTX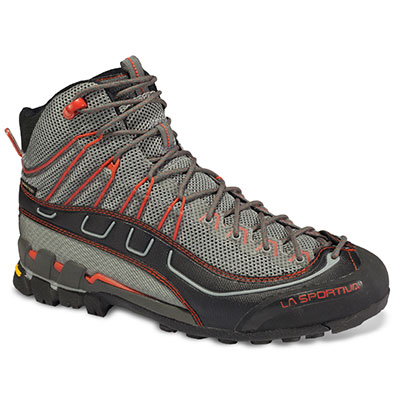 light, minimalist feel
full-length lace
gore-tex extended™ membrane
2lbs/pair (US 9.5)
La Sportiva's lightweight Xplorer Mid is not at all the shoe I was expecting. In terms of weight, stiffness, and structure, the Xplorer is almost an anti-boot.
The Xplorer Mid is minimalist to the point of being primitive. In fact, the shoe reminds me most of my Pearl Izumi Peak XC trail runners—they both have the same natural, almost 'barefoot' feel. That's going to be appealing to some hikers, and a big turnoff to others. If you insist on a thick, rigid sole and a stiff, structured upper, this is most definitely not your shoe.
On the other hand, if you're open to the idea of an ultralight, 'natural' hiking shoe, the Xplorer is intriguing. Thanks in no small part to Christopher McDougall, I'm absolutely a believer in the idea that less structured shoes are healthier for our feet. The kicker, however, is that you have to train (ie strengthen) your feet if you're coming from more supportive footwear.
So, clearly, I'm not going to recommend you step into a pair of Xplorer Mids and then go dayhike Whitney or try a R2R2R marathon at the Grand canyon. The safe call is to start light, and gradually work your way up to larger objectives. See how your foot—and the shoe—reacts. You may well find, in time, that you can do nearly anything in these shoes.
The shoe is impressively light, weighing a measured two pounds per pair (that's 16 ounces apiece, size 9.5 US). That puts the Xplorer at exactly the same weight as my favorite discontinued shoe (aka 'The Holy Grail') Nike's Air Zoom Tallac. Compared to the Tallac, the Xplorer has less structure overall, but perhaps a better fit, thanks to its full-lace design.
Yes, you can lace the Xplorer all the way from your toes to your shin, which gives you considerable power when it comes to adjusting and tightening the fit. Interestingly, a lot of the upper structure comes from the laces themselves, making them an integral part of the shoe's support system. I haven't put the Xplorer through an intense downhill test, but I'm optimistic the shoe will prove capable of crunching big vertical, up and down.
On the trail, you'll notice a lot more flexibility in the sole than is typical for a modern hiking boot. That said, the shoe does include an interesting, flexible midsole shank (Sportiva calls it their 'rock guard') to protect your feet from rough ground. The resulting feel is comfortable and, again, natural—as if you're wearing almost nothing on your feet.
The bottom line for me is, how will they handle heavy duty work? I don't have a clear answer yet, but I'm enthusiastic about the possibilities. A fully-functional on and off-trail workhorse at this weight would be quite a find, indeed. So: I'll recommend these right away for fans of minimalist footwear. For everyone else, I'll keep pounding on them, so stay tuned...
UPDATE 2014/06/21: beware the blisters! There are design elements at work here that make this shoe very capable of chewing your feet to pieces, including an unprotected stich on the heel line, and a general "floatiness" where the heel and midfoot are concerned. As much as I like the Xplorer for shorter distances, I am now skeptical of their viability for longer trips...