Swany X-Change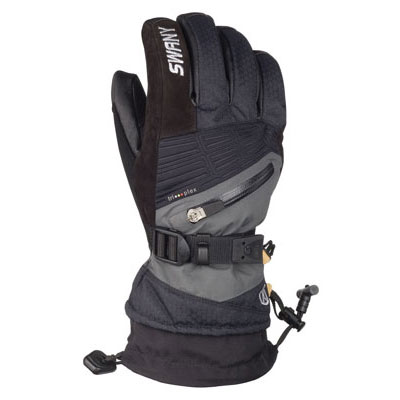 quality construction
alpine favorite
crossover appeal?
9.9oz/pair
Swany's X-Change replaces the earlier X-Change II crossover glove. Other than the name, however, the two gloves are essentially identical.
In either version, 'quality' might be the word that first leaps out at you. The X-Change looks like a higher-end product, featuring materials, construction, and styling that clearly distinguish it from bargain-shelf skiwear. At the same time, the X-Change is priced competitively enough to give cheaper brands a solid scare. This happy combination of quality, styling, and price makes the X-Change a fine choice for in-bounds skiing and snowboarding—and perhaps a bit beyond.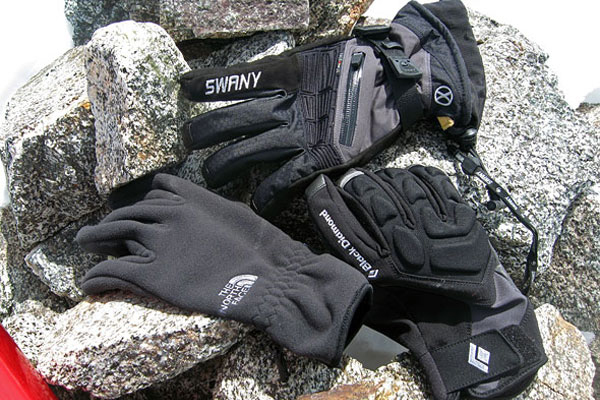 Part of their performance series, Swany calls the X-Change a sports-utility crossover glove.
The X-Change is meant to appeal to skiers and snowboarders of both Alpine and Backcountry persuasion, with a hint of a nod to general mountaineering and climbing as well.
Backcountry-oriented features include a leather and vinyl-paneled palm for extra grip, a cinchable wrist skirt to keep snow out, and an articulated profile. I particularly liked the trim, nimble feel of the X-Change: despite its insulation, the X-Change seems more like a Spring glove than bulky winter gear. It's easy to grip a ski pole handle, and if you like to climb while holding your ski poles by the shafts, the X-Change has a nice, sticky grip.
That said, you certainly won't mistake these for a dedicated mountaineering glove. The X-Change is water-resistant but not waterproof. In wet conditions, the glove's exterior fabrics do tend to soak. In high winds and single-digit temperatures, I found the slim profile noticeably chilly, limiting the glove's range to moderate as opposed to bitter cold weather (note: the X-Change features a pocket on top, which allows you to zip a chemical heat pack into the glove for extra warmth).
Let's call the X-Change viable but limited for backcountry and mountaineering applications. Rather, it is as a mid-weight all-purpose Alpine glove that the X-Change shines. The 'Uni-Pull' cuff design is clever, allowing you to effortlessly cinch or release the wrist with one hand. The nose wipe thumb is always appreciated. I loved the silky-smooth interior liner, which never pulled at my cuticles, and also never pulled loose when I took off the gloves. I also liked the glove's subtle but distinctive look.