Arcteryx Khazri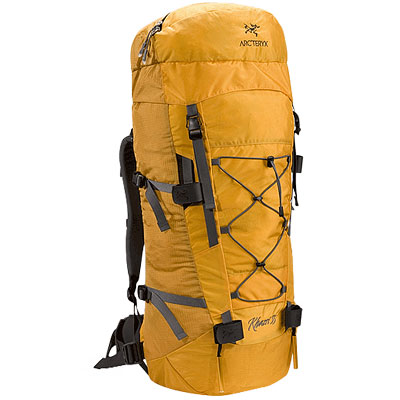 gorgeous build
design quirks
ineffective frame
4 lbs 3 ounces
I don't get the Arcteryx Khazri backpack. The design is a puzzling combination of superior build quality and ineffectual engineering.
The handsome Khazri comes in two versions: a 35-liter framed daypack, and a 55-liter overnighter. I was initially drawn to the Khazri 35 as a possible replacement for my Black Diamond Speed 30, thinking it might be able to carry more weight. Imagine my surprise when I learned the Khazri 35's frame consists of horizontal struts.
Yes, the Khazri 35's frame is like a ladder without the side bars—which is to say, not a very useful ladder. I was mystified enough by this bit of pointless engineering that I briefly considered trying to get one of Arcteryx's designers on the phone to give them a chance to explain themselves. Then I learned the Khazri 55 includes the missing vertical support, so I decided to give that a try instead.
The Khazri in both 35 and 55 liter versions reminds me of my model period. During those happy, carefree years, I dated a variety of singers, actresses, and models, all of them positively gorgeous, especially on film. Like those ethereal creatures, the Arcteryx Khazri is dazzling to look at, and build quality is superb, but as you start to settle into a long-term relationship, you find yourself wishing for a little more depth.
The addition of two aluminum stays adds little to the Khazri 55's vertical rigidity. I loaded the 55 with a partial, awkward load (my standard backpack frame test) and instantly noted the way the weight shifted to my shoulders. Perhaps the Khazri is best thought of as a frameless climbing pack in either version. Note, however, that while the packs do strip down, much of the frame is not removable, including the Khazri 35's horizontal struts.
So, you get a pack that carries like a frameless model, but has the added weight of a frame. Mystifying. To really appreciate how odd this design is, compare the Khazri side-by-side with a top Alpine pack like the Black Diamond Quantum. The Quantum's suspension positively embarrasses the Khazri's.
There are other quirks to the Khazri (funky tool attachments, an ill-conceived back panel), but given the severity of the frame issues, I see little point in piling on the grief. I'm going to think of the Khazri as a bit of an aberration from a brand that is otherwise know for making brilliant high-end gear.