Mammut Creon Light 45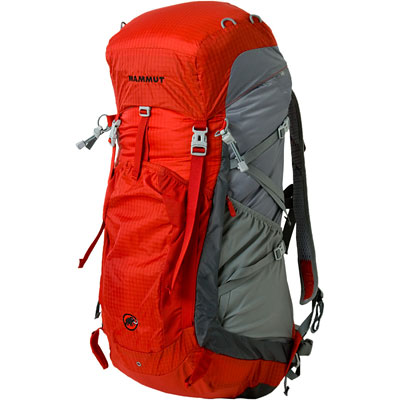 stiff frame & waistbelt
excellent ventilation
impressive carry
2lbs 6oz (45L)
Mammut's Creon Light backpack offers us a significant ultralight achievement: a load-worthy backpack weighing less than two and half pounds.
Traditionally with backpacks you must choose one or the other—total weight or carrying ability. The Creon Light lets you enjoy the best of both worlds. The frame is very stiff, matched with an effective suspension to take advantage of that foundation, plus a feature-rich body, all of it somehow built light without seeming the least bit flimsy.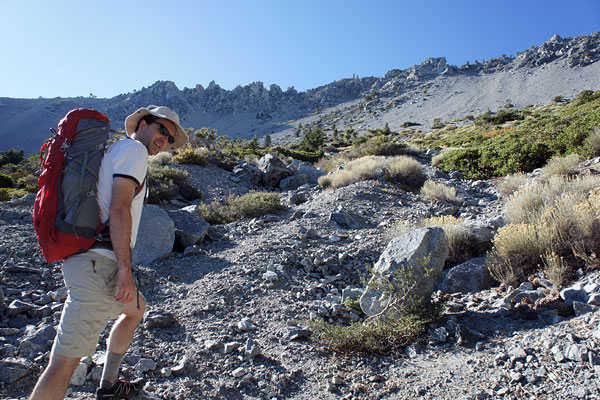 We've seen stiff frames in ultralight packs before, such as in the somewhat-similar Osprey Talon and Exos packs.
But the Creon Light is the first to actually make use of its frame, providing a firm, warp-style waistbelt to transfer the load to the hips rather than shoulders.
Load up the Creon Light (expandable to about 50L, with floating lid and expansion collar) and you'll marvel at its ability to carry weight well—and that is the key. It does us little good to admire frames and straps and weights if down the trail, where it matters, the pack fails to balance the load and keep it pinned to your hips. Obviously, the Creon Light isn't up to the carrying ability of an expedition pack, but for its weight class, it is very, very impressive—the best I've seen.
Mammut has built a "fourstream" backpanel into the back, offering four-way ventilation that is outstanding. The Creon Light thus becomes an instant favorite go-to pack for 3-season overnight trips and desert backpacking. Frame length is fixed, but the shoulder strap attachment point is effortlessly adjustable, allowing you to customize the pack to fit your torso size—very nice.
You do get two tool attachment points, but be aware that the Creon Light isn't quite up to the demands of technical climbing use. I was able to carry skis on the pack, but my skis' edges did begin to damage the Creon's sidewalls. That said, the look and feel of the Creon Light is far more durable than you'd expect for a pack in this weight class. The fabric doesn't feel like tissue paper.
I'm impressed enough with the Creon Light to want to try it for longer and deeper ventures. My initial impression is that Mammut really has built a pack that sheds a pound or even two compared to its overnight competitors without compromising comfort or load-carrying ability. Note that the Creon Light is also available in a framed 32-liter model for big dayhiking adventures, or true overnight minimalism.