Osprey Exos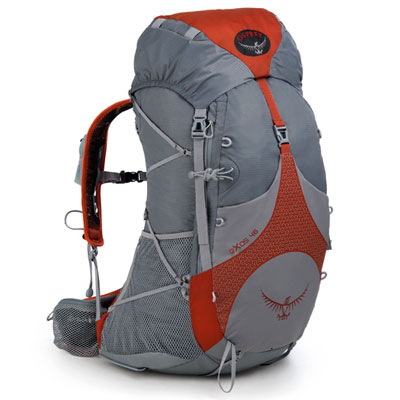 airspeed™ frame
superlight
hot-weather hiker
2lbs 2oz (34L)
Osprey isn't joking when it calls its Exos-series packs 'superlight'—these overnight-capable packs come with a stiff and robust frame yet weigh about the same as most frameless daypacks.
The 46-liter Exos weighs a remarkable two pounds, five ounces. Does that sound too heavy? My stripped-down Exos 34 weighs one pound fifteen point five ounces, lid and frame included. In either the 34 or 46 liter versions, the Exos feel supernaturally light. If you can lift one of these lightweight marvels in the store and not end up bringing it home, you've got more self control than I do.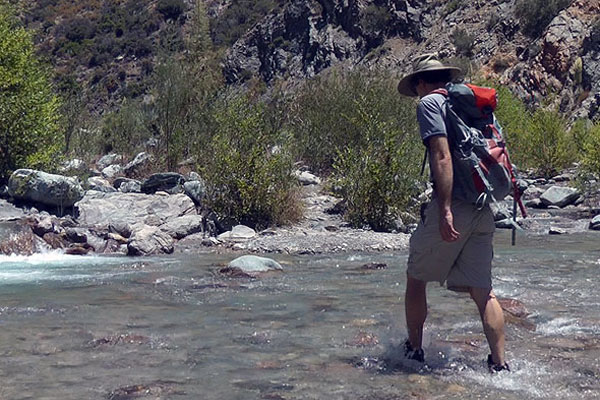 I obsess over backpack weights, constantly scouring new model specs looking for that holy grail of backpacks: a two pounder capable of comfortably carrying skis plus overnight gear.
Can the Exos packs do that? Well...not really. They're not designed to handle 50-pound loads, much less skis.
But the Exos' design is tantalizingly close to such a capability, and even staying within the range of their intended use, the Exos do offer several compelling features. Let's start with the frame. Rather than using struts alone or in pairs, the Exos packs come with a continuous rectangular frame that is essentially an ultralight reimagining of a vintage external frame pack's skeleton.
The longitudinal rigidity of the Exos frame is very impressive: set the pack on the floor and push down on the top, and you'll see almost no distortion whatsoever. The weakness of the Exos' carrying capacity, in fact, has nothing to do with the frame, which on its own could carry practically anything you could strap to it. No, the problem is the waist belt, which creates a soft link between frame and pelvis.
The waist belt is not made of the stiff foams and plastics found in traditional overnight pack belts, but rather a meshy, breathable fabric with almost no reinforcement. In practice this makes the Exos' waist belt remarkably comfortable and breathable, as it conforms perfectly to your body shape. But the belt makes for a very spongy interface with the load, such that the pack will sag downward and rearward as the load gets heavier.
Since you can train yourself to carry twenty pound loads with frameless packs, you may be wondering whether there is any real point to the Exos frame, if it is matched with such a flopsy waist belt. The answer is yes. First, the Exos packs quite nicely handle modest loads, keeping the weight off the shoulder straps and therefore preventing/reducing back fatigue.
More significantly, the Exos packs employ what may be the most aggressive edition yet of Osprey's Airscape/Airspeed design. Desert hikers take note: the Exos' frame creates a ventilation space between the body of the pack and your torso, allowing air to freely flow across your back. In the field, the concept is most effective on windy or at least breezy days.
And this high-ventilation ethic extends to every other aspect of the pack's design. Wherever fabric touches skin, you will find a substantial effort has been made to improve breathability, from the shoulder straps to the waist belt to even the contact points of the rear of the pack against your torso. The result: superior hot-weather and high-output comfort.
As I hiked about San Gabriel Canyon in the Osprey Exos, I found my thoughts naturally turning toward the Grand Canyon. As long as you aren't hiking through one of the Canyon's waterless sections (and therefore forced to carry huge loads of water), the Exos strikes me as an ideal choice for hot desert and canyon hiking. The ventilation is terrific, the pack's base weight is super-low, and you won't need to carry heavy gear which might overload the pack.
All the Exos models, including the 34-liter version, come with an abundance of exterior tie points and straps to cope with tents, pads, and sleeping bags. As for less ideal uses, the Exos packs clearly weren't designed to carry skis. Rock climbers, as well, will likely find the pack's extended width (to better create ventilation) an annoyance if not an outright liability.
Overall I find the Exos an intriguing iteration of Osprey's gradual evolution toward lighter, more specialized technical packs. I can't quite call the Exos a triumph for my own needs, and even for its intended uses I'd like to see a better frame/waist belt interface, but I must say it is exciting to see Osprey continuing to develop and execute these innovative concepts.
I just don't see this kind of willingness to engage in wide-open experiments in any other major pack maker's designs right now. With innovation comes quirks and oddities, to be sure—not everything proves to be a success. But Osprey is clearly challenging—and changing—the rules of backpack design, and that's great news for all of us.