Granite Gear Vapor Trail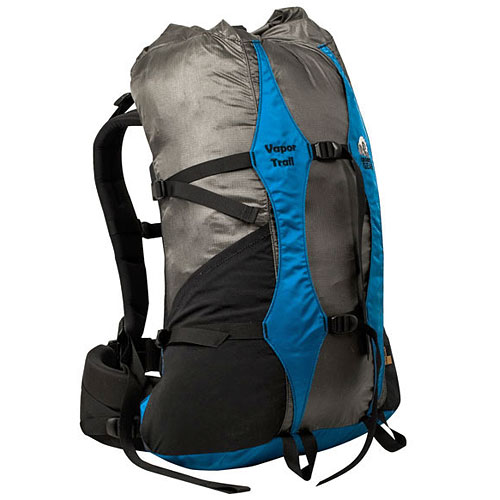 ultralight
best for moderate loads
not a large-capacity pack
2 lbs 5 oz
Granite Gear's Vapor Trail sits comfortably in the gap between a modern internal frame pack and an ultralight frameless thru pack.
While the Vapor Trail will not satisfy the most hardcore ultralight hiker (many of whom make their own packs out of silnylon and string), it is nonetheless an excellent compromise for those seeking a light overnight pack that still offers durability and a viable frame. Keep the total load under 30 pounds or so, and you'll be the envy of your group on most any trail-bound backpacking excursion, thanks to the Vapor Trail's exceptionally-light two pound, six ounce weight (measured).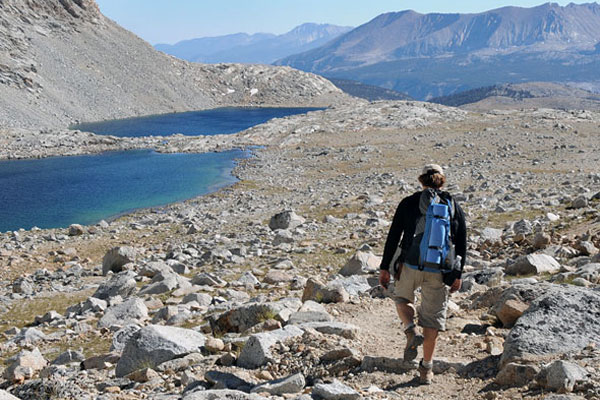 Unlike a traditional pack, the Gear Gear Vapor Trail employs a lidless design—instead of being capped with a lid, the top of the Vapor Trail just rolls down and buckles in place.
Going lidless can take some getting used to, especially if you're fond of storing frequently-accessed items in zip-pockets.
You'll either have to keep everything in the Vapor Trail's main body, or stash what you can in the two external mesh pockets. The obvious benefit of the lidless design, however, is saving 8-10 ounces of weight (though it can be argued you can always clip off a regular pack's lid to get the same advance). To shed pounds overall, the Vapor Trail uses a light 70D nylon fabric for the body, and extra straps, zippers, and other superfluous features are for the most part kept to a minimum.
But that doesn't mean you're just getting a stuff sack with straps. Impressively, the Vapor Trail includes a pound-saving HDPE frame for load capability, plus a generously padded waistbelt and shoulder straps—essential for keeping you comfortable mile after mile on the trail. This combination of performance and ultra-low weight has made the Vapor Trail one of the most popular packs in its class.
Granite Gear estimates roughly 40% of thru-hikers on the Appalachian Trail carry the Vapor Trail—a fine endorsement, to be sure. Be aware, however, that you are making some concessions compared to a more traditional internal frame pack. You'll likely want to keep the pack's load as small and compact as possible in order for it to carry well.
In my experience, Granite Gear's lidless packs tend to torque backwards a bit under load, making them less suitable for heavy loads. This is especially true if you are unable to compact your gear into a solid package—ie, if you are carrying bulky or oddly-shaped items, as is typically true in more Alpine pursuits. While it would be possible to strap skis on the Vapor Trail, for example, the pack is not well suited for such a role (though it will certainly do in a pinch).
The Vapor Trail comes with an extremely long expansion collar. Functionally, this is more useful as an emergency bivy than for actually expanding the pack's useable volume. Given the limited capabilities of the suspension, I don't think you'd want to push the Vapor Trail all the way up to its stated volume of 59 liters. Once again, however, if you have to do so, you can.
A more realistic assessment would be to call it a 40-45 liter pack. On that theme, consider the Vapor Trail's recommended maximum load weight of 30lbs as a limit best obeyed. Stay under 30 lbs (give or take), and you'll likely be quite happy with the Vapor Trail for your long-distance trips. The padding will keep your hips and shoulders from bruising, and you'll love dropping two or more pounds of pack weight.