Black Diamond Mini-Pearabiner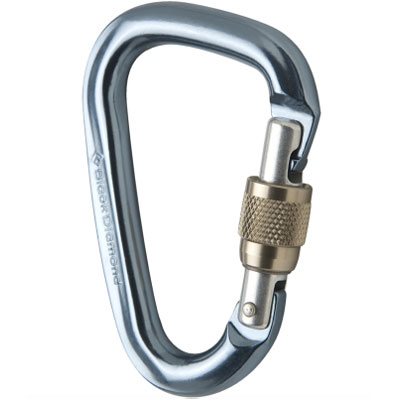 HMS-class screwgate
extra rope-bearing surface
24kN strength
2.4oz
If you're going to be a climber, you've got to carry at least one locking carabiner. I've checked all the books; it's the law. Without a rope, however, you may be wondering what good a carabiner is. Not to worry: just clip it onto the back of your pack for an instant, stylish accessory that lets everyone know you're a member of mountaineering's 'in' crowd.
Black Diamond's Mini-Pearabiner is perhaps the most versatile of their compact-and-light locking carabiners. This HMS-type (pear-shaped) locker has an intriging hybrid profile, part I-Beam, part rounded, to save weight while still providing a lot of rope-bearing surface to create friction for smooth rappels and controlled belays.
The Mini-Pearabiner has a sturdy feel (certainly compared to the ultralight Vaporlight) without being heavy. Weight is a modest 2.4 ounces (69 grams). Durability looks favorable as well, thanks to the extra metal at the rounded top. Construction and strength are sure to inspire confidence despite the Mini's smaller size.
On the subject of size the Mini-Pearabiner is easily big enough to accomodate a Munter Hitch knot, though Black Diamond doesn't give us a maximum rope size. I'd say the upper body is a few millimeters more spacious than the Vaporlock's body (which is said to be able to accomodate up to 9.4mm ropes), so you can probably use that as a guide.
Looking over my older Mini-Pearabiner, it looks to me like Black Diamond has reduced the weight of the modern Mini by reshaping and thinning the profile along the back of the carabiner. That's probably not going to be of any significance for most users. So, if you've got an old Pearabiner sitting around and you think it's a bit too heavy, give the new Mini a try.