La Sportiva Mythos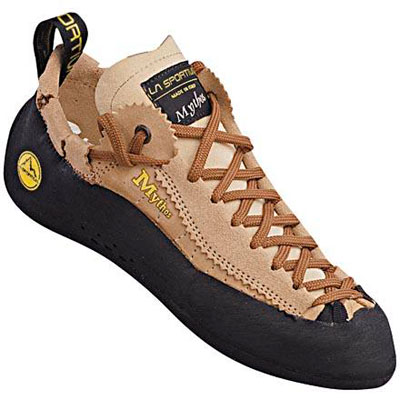 comfortable
soft leather upper
neutral/round shape
21.4oz/pair
La Sportiva doesn't exactly market the Mythos as the ideal entry level climbing shoe, but this comfortable leather performer does make a fine choice for first-time climbers.
'Comfort' is a relative word in the realm of climbing shoes. Your average pair of climbing shoes are likely to be the most uncomfortable things you'll ever put upon your feet, and even with the Mythos, I shudder to contemplate having to hike downhill in them over any sort of distance. That said, the Mythos has a number of features that specifically make it less abusive to feet.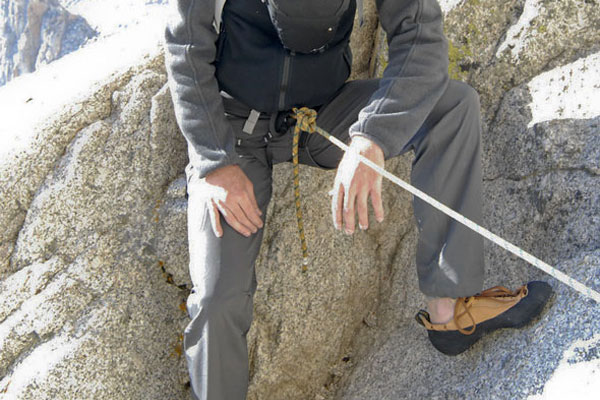 Start with the Mythos' soft and supple leather body. Comfortable against your bare skin, the Mythos' leather has the advantage of being stretchable.
Over time, the shoe adapts to your foot's shape—and stretches if your foot swells.
Similarly, the Mythos' Vibram™ rubber rand is perforated near the arch to allow a bit of stretch in the hard sole. Finally, the Mythos employs a neutral shape, without aggressive upward or downward tilt, keeping toes flat and reducing foot strain over the long haul. On rock, the Mythos proves to be a versatile performer.
La Sportiva calls it the perfect shoe for crack climbing. I say the Mythos' comfortable fit and all-around climbing chops make it a strong choice for adventures where you'll be on the rock all day—particularly multipitch high alpine routes. Apparently others agree: the Mythos is a very popular climbing shoe on trad routes.
Liabilities are modest. Compared to today's most aggressive climbing shoes, the Mythos will not offer cutting-edge climbing performance—though this will only be noticed by rock specialists who climb well beyond the general public's ability level. Also, the same quality that makes the Mythos comfortable—stretch—can work against you. Over time, you may find you need to move to a smaller size shoe as the Mythos stretches out.
Finally, leather is not known as the most breathable of materials. Your feet are likely to sweat a bit in the Mythos, which could be an issue in colder weather. I imagine, however, that this is not unusual in any climbing shoe, and at some point climbers are forced into a mountaineering boot for weather protection no matter what kind of climbing shoe they're wearing.