Black Diamond Nitron Screwgate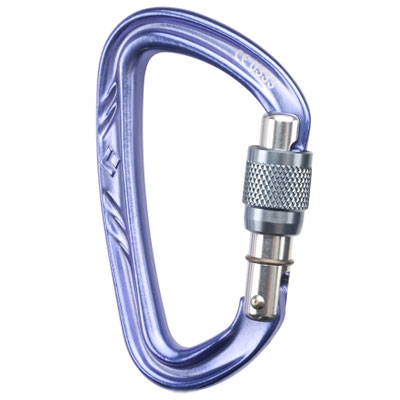 light & versatile
munter hitch: no
24Kn strength
1.8oz
How does Black Diamond's new Nitron screwgate compare to their Vaporlock carabiner? While they appear similar, there is at least one notable difference. But first, the similarities: on my scale the Nitron weighs 1.8 ounces. The Vaporlock weighs 1.8 ounces also. According to Black Diamond's spec, the Nitron is actually two grams lighter than the Vaporlock, but you're not going to notice that unless you've got a jeweler's scale.
Overall, 1.8 ounces isn't exactly lightest-of-the-light when it comes to locking carabiners, but it's close (a DMM Phantom weighs 1.45 ounces). Compared to the Vaporlock, the Nitron adds a tiny bit of gate size—an extra 2mm—and a bit more long-axis closed-gate strength. The Vaporlock remains a bit more spacious overall thanks to its pear-shape, and herein lies the big difference: the Vaporlock is an HMS (pear-shaped) carabiner, while the Nitron is a basic carabiner.
HMS carabiners are preferred for belaying, but provided you use a belay device, the Nitron should do the job perfectly fine as well. The real difference may boil down to your ability to use a Munter Hitch for a rappel instead of a belay/rappel device. The HMS Vaporlock is approved for Munter Hitch use with ropes up to 9.4mm, according to Black Diamond. The Nitron: not recommended for use with Munter Hitch knots.
What exactly is a Munter Hitch? It's just a simple knot that allows you to rappel without a belay device. It's nice to have this option in the event that you forget or damage your belay device. And, in some cases (skiing, uber-hardcore alpinism), some mountaineers will deliberately leave their belay devices at home and just use Munter Hitches to save weight.
In practice, the real danger of Munter Hitch knots with non-HMS carabiners is probably debatable, but why bother pushing the issue? The Vaporlock weighs (almost) exactly the same as the Nitron, and gives you the extra option should you want or need it. That said, if you want a locking carabiner that you won't be using on your harness, the Nitron is economical and very light. Just be sure you understand how it differs from the Vaporlock.