Black Diamond Vaporlock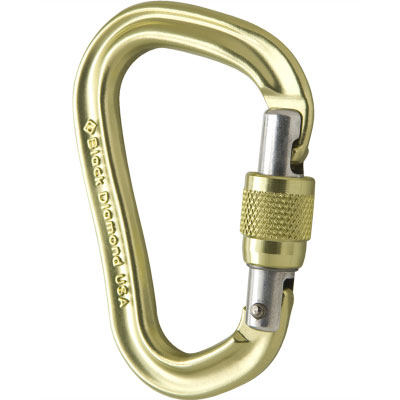 HMS-class screwgate
munter hitch compatible
21kN strength
1.8 ounces
While I'm thinking about carabiners, let's take a quick look at Black Diamond's Vaporlock, which Black Diamond says is the world's lightest full-function "pear" locker. That means the Vaporlock is an HMS-stamped carabiner, with a larger, offset shape specially designed for belay use, and of course a screwgate to lock the gate shut while in use.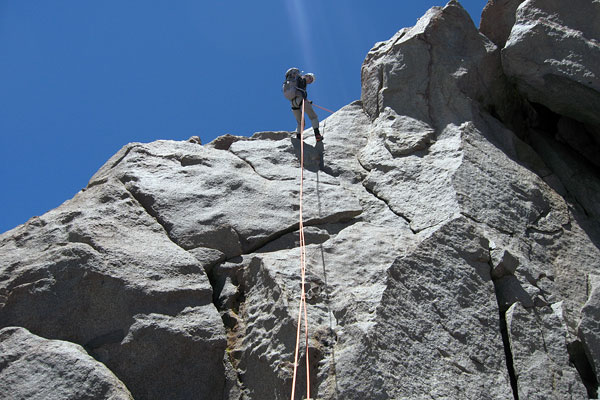 Is the Vaporlock Munter-Hitch compatible? Yes, for ropes up to 9.4mm in diameter, which should be enough for most uses.
Given that the Vaporlock is an ultralight carabiner, it's probably safe to assume if you're using one of these you're not going to be carrying a fat rope.
(A Mammut Serenity is an 8.9mm rope, for example.) Why all the fuss about the Munter Hitch? Insurance, mostly. If you drop your primary belay device—which can happen—a Munter knot turns your locking carabiner into a backup rappel/belay device. An HMS-style carabiner's pear shape helps keeps the knot from pressing against the screwgate, which could otherwise open or even break it.
Compared to a normal I-beam carabiner, the Vaporlock's cross-sectional design has been tweaked to increase friction while belaying/rappelling, once again working to make the Vaporlock a legitimate HMS carabiner despite its ultralight construction. Who wants to carry an ultralight locking carabiner? That's a question Neil Satterfield asked me on North Palisade—and it did give me a moment's pause, especially when I was hanging in outer space off the Vaporlock.
Do you really need to save 0.6 ounces (compared to a mini-Pearabiner) when it comes to such a critical part of your protection system? Maybe. Sport climbers and other frequent gear abusers will likely want to look for beefier, more durable hardware. But ski mountaineers (who love their Munter-Hitches) and other niche specialists should certainly give the Vaporlock a consider...and plan on watching wear carefully and replacing as necessary.