Black Diamond Predator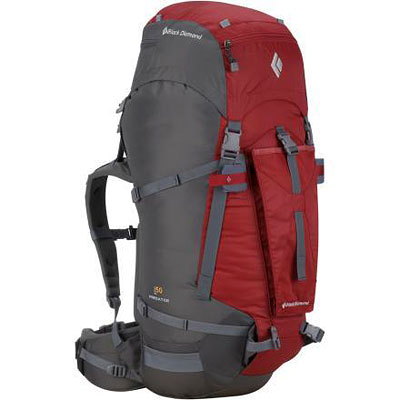 improved suspension
surprisingly light
design a tad gimmicky
3lbs 11.5oz
I haven't spent enough time with Black Diamond's new Predator backpack to give it a full endorsement, but the Predator has already proven to be a convincing improvement over the Shadow—in some respects.
The Predator appears to be the successor to the Black Diamond Shadow. The Shadow's biggest liability, in my opinion, was its poor load carrying ability, due to a top-heavy design and an overly flexible suspension. The Predator immediately addresses the problem with a sleek, intelligently tapered shape, and a far more robust suspension.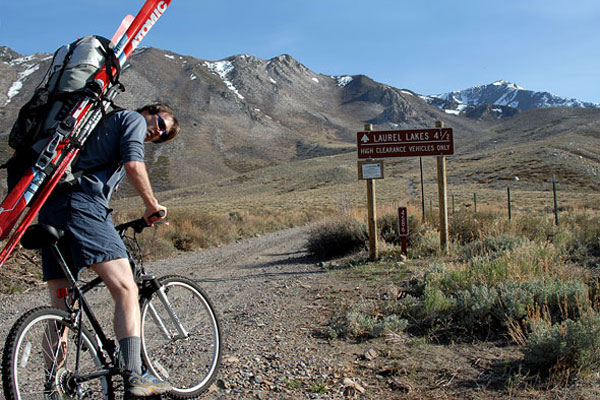 These happy improvements come with no apparent increase in weight: my 50L Predator measured 3 pounds, 11.5 ounces on my scale, make it two ounces lighter than my 45L Shadow.
Moreover, the Predator uses a heavier fabric, 420D SylNylon, for improved durability.
How does Black Diamond accomplish this seeming feat of anti-gravity? The Predator loses the Shadow's removable bivy pad—unfortunately one of the Shadow's more useful features. In terms of design, the Predator is a puzzling creature. Black Diamond has added a number of features that serve little real purpose other than boosting the pack's total weight.
These include a helmet "flap", a crampon pouch, and a mini zippered back panel access flap that is best described as bizarre. Like the Shadow, the Predator has a generous expansion collar (to boost volume when you need it) and a floating lid that is fully removable. The Predator's lid, however, is needlessly heavy, with additional zippered and Velcro pouches that are unnecessary. Despite its weight, the lid is also rather small. It is difficult, in fact, to get the lid to fit if you attempt to overstuff the pack (and make use of the generous expansion collar).
All these design extras add up to a considerable amount of weight. Yes, the Predator is still a sub-four pound design. But if Black Diamond had cleaned up the pack a bit, the total weight could easily have been under three and a half pounds, making this one of the lightest full service packs in existence. That opportunity has been lost, at least in this incarnation. On the positive side, you'll immediately notice the improvements in the Predator's suspension. Black Diamond's Y-Rod frame has been stiffened, and the pack's overall shape tweaked to prevent the load from shifting away from the hips.
I found the Predator's abundance of flaps and pockets annoying. Compared to the Shadow's undeniably slick design, the Predator seems slightly awkward, with a too-many-cooks feel to it. Whether the addition of so many "extras" makes the pack bloated or more useful will depend on your specific needs and tastes. I confess I tend to prefer clean, minimalist designs. In this regard, the Predator is a bit of a disappointment. However, I'm also pragmatic, and when I find something that does the job, I use it.