Black Diamond Shadow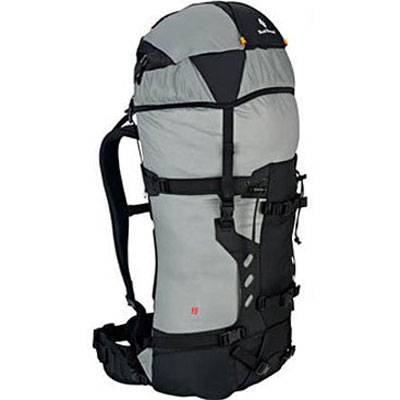 smart, compact design
many attachment points
not for heavy loads
3lbs 13oz
Black Diamond's Shadow 45 offers a glimpse, at least, of what the ideal ski mountaineer's pack might look like. The Shadow is loaded with a clever set of features, including a removable bivy pad which can replace (in a pinch) your regular Therm-a-rest or a Ridgerest pad.
I love the pack's floating-head design, which allows the Shadow to expand its volume by an extra 10 liters or so when needed (and somehow, it's always needed). Additionally, the head pouch is completely removable, along with the frame rod, allowing you to strip the pack down for summits assaults from 3 lbs 13 ounces to just over two pounds—not bad for an overnight alpine pack!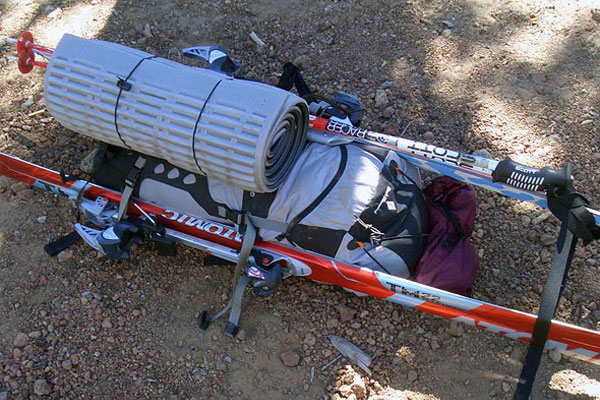 The Shadow of course features all the usual climbing attachments, allowing the easy fixing of ice axe, crampons, and even climbing rope.
In fact, the Shadow's attachment points run toward excess: Black Diamond seems unusually enamored with strappage.
I suppose Black Diamond would argue that the Shadow's over-abundance of straps allow the user to customize the pack to suit their needs. Unless you're one hardcore strap-loving mountaineer, you'll probably want to do some strap-surgery before you hit the backcountry. Despite its rich feature set, the Shadow lacks side mesh/wand pockets. Also, the suspension simply isn't built to handle large loads; weight gradually shifts to the shoulders, compromising comfort and leading to back problems over the long haul.
This problem is aggravated by the pack's shape, which resembles an inverted cone—the cross-sectional area increases as you move from base to top. The benefit of this design is a pack that's easy to load and access. If you're not careful in your packing, however, the Shadow can be significantly top-heavy, leading to significant rearward torquing forces.
In all fairness, Black Diamond didn't design the Shadow to compete with true approach packs. Rather, this is a hybrid that sits somewhere between a climbing/summit pack and an expedition pack. If you do use the Shadow as an approach pack, you'll easily overload the suspension. You may find the compromise acceptable, however, once you've reached camp, where the Shadow easily strips down to a sub-three pound summit assault pack.