Brooks Range Ultralight Solo Tarp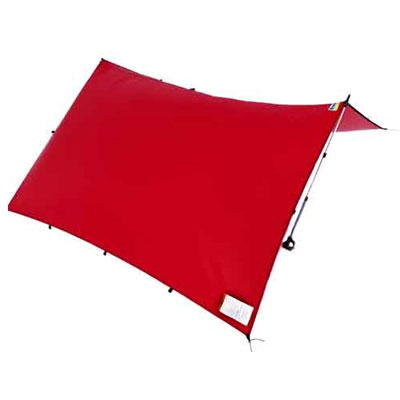 lightest tarp available?
design quirks
8' x 5'
5.9 ounces
I say Brooks Range's water-resistant Ultralight Solo Tarp is almost brilliant—but it's that 'almost' that seems to be occupying most of my thoughts.
The UL Solo Tarp is made of Brooks Range's proprietary hi-tech Intrepid® fabric, which achieves its waterproofness not via coatings or membranes but rather a milling process that smooths and fuses the actual nylon threads together. The obvious advantage of the process is weight. As its name implies, the Ultralight Solo tarp is very light: 5.9 ounces (measured). Another advantage is durability—the tarp's waterproofness can't rub off or wear out.
That said, just how waterproof are Intrepid products? Brooks claims the fabric is waterproof to one pound per square inch of pressure. To put that number in perspective, The North Face's HyVent fabric is waterproof to 60psi. In practice, these numbers likely mean you'll have no problems using the UL Solo as a tarp (overhead) in a downpour, but you should allow the possibility that water will seep through if you're using it as a bivy sack or ground cloth.
In hand, the tarp is soft and silky, without any annoying crinkle to it. It very closely resembles the thickness and feel of an ultralight nylon wind-shirt—though presumably without sharing the same breathability factor. Interestingly, in addition to tie off points along the edge, there is also a border of Velcro tape, aligned lengthwise, which allows you to turn the tarp into a bivy-like pocket. If the prospect of carrying a 5.7-ounce waterproof bivy sack sounds appealing to you, you're not alone!
Note however the waterproof versus water resistant discussion immediately above. Note also the inclusion of a very unusual feature (for a tarp): a hole in the middle. Okay, it's more like a taped-over slot. This feature, according to Brooks, is intended to allow you to clip a rope directly through the tarp, for example in situations where you need to sleep clipped-in to a protection anchor. Interesting—but my guess is most people would prefer to buy a tarp without a hole in the middle.
In practice, the variously-sized Brooks Range ultralight tarps are specialty gear. If you have a specific need that these tarps can fulfill (such as a fair-weather bivy sack or ground cloth), they will do so admirably. But I'm not ready to toss out my usual tarp or bivy sack. Get the UL Solo tarp when you need the absolute-lightest gear possible, and you're willing to work around design quirks and limitations.