Space All-Weather Blanket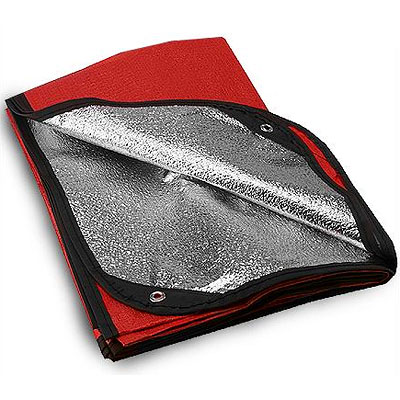 rugged & durable
ground cloth/emergency shelter
7' x 5'
12 ounces
The Space All-Weather Blanket is the original Space™ Blanket—the one my parents used when they went backpacking.
Many if not all of the other space blankets on the market today are lighter—most, in fact, are little more than sheets of mylar that will shred like aluminum foil in the slightest breeze. That's probably okay if you just want a backup emergency blanket sitting in your backpack. On the other hand, if you want something you can actually use on a regular basis, get one of these.
The All-Weather Space Blanket is beefy and tough. For backpacking it admittedly puts a little more weight on your back (you can trim it to reduce weight), but it offers bomb-proof protection as a ground cloth, or as a tarp overhead (thanks to secure corner grommets) to block rain or sunshine. In fact, with one of these you can rig a pretty credible shelter if you need to.
As for using space blankets as emergency blankets, I've seen various claims that space blankets will reflect up to 80% of your body heat, thus making them capable of keeping you warm. Strictly speaking, that may be true: space blankets do reflect back lost radiant heat, but convection/conduction remains a formidable foe in the backcountry, and if you think you're going to wrap your naked body in this or any other space blanket and stay warm, you're likely in for a very chilly night.
That said, as group gear it probably doesn't hurt to put a space blanket in your emergency kit. Look for the 'emergency' versions to save weight. I like the Space All-Weather model particularly for car camping, when weight isn't an issue. It's also my favorite ground cloth for summer backpacking, and certainly a worthwhile addition to your own gear collection.