Granite Gear Nimbus Meridian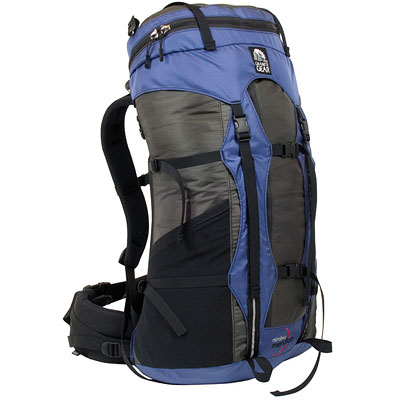 impressive comfort
enhanced durability
med. loads/big miles
3 lbs 12 oz
Think of the Granite Gear Nimbus Meridian as a modestly-light trekking pack with an emphasis on comfort, durability, and load carrying ability.
The Nimbus Meridian was designed to satisfy the needs of Granite Gear's most extreme tester, Justin Lichter, affectionately dubbed 'Trauma' by GG staff, who logged some 10,000 miles on a 365-day hiking spree in 2006. Trauma needed a pack that could not only carry a lot of weight, but could also just plain survive all that abuse. And to top it off, he also wanted the pack itself to be light.
Granite Gear has been a major innovator in ultralight backpack design. Their lidless 2lb 5oz Vapor Trail is a favorite of thru-hikers wanting an ultralight but also framed backpack. With the 3lb 12oz (measured) Nimbus Meridian, Granite Gear returns to a more traditional floating-lid top loader design, but brings with it some of the weight-shedding advances of their ultralight pack line.
What strikes me most about the Nimbus Meridian is its comfort. The padding on the backpanel, waist belt, and shoulder straps makes for one of the most luxurious feels I've yet encountered in a backpack. It's almost a pleasure to put the thing on, and you quickly get the sense that this is a pack well-suited for usually long adventures.
The primary weight-shedding features in the Meridian are the use of newer fabrics, like 70D Silnylon, and a lightweight frame/framesheet borrowed from the lidless Nimbus Ozone. The lid is removable, with some effort, and doubles as a fanny or summit pack. Heavier Cordura nylon is used to reinforce the lid and wear zones, enhancing durability.
For a light pack the Nimbus Meridian has a surprisingly robust feature set, including a water-resistant zipper on the lid and body (for front-access), plus an abundance of straps, mesh pockets, and tool attachments, and even reflective tape to make you visible to others when you're hiking in the middle of the night. I should mention I'm not a big fan of the main compartment's front entry zip flap, which always remains partially open, creating a (slight) risk of dropping gear.
Compared to something like the Vapor Trail, the Meridian does carry weight noticeably better. The pack has a reasonably firm frame, and does an adequate job of staying upright against your back when loaded, displaying only minor rearward torquing (GG rates the pack for loads up to 40 pounds).
If there is a point to quibble here, it is perhaps that it is no longer 2007. Sub-4 pound packs in this size are no longer the exception, they are the rule. That makes the Nimbus Meridian somewhat less groundbreaking today compared to when it was first released. Black Diamond's excellent Quantum, for example, effectively weighs less than the Meridian, but brings a far more robust suspension plus Alpine-oriented features (admittedly with a less comfortable harness). And a select few packs considerably undercut the Meridian's weight while still remaining competitive in load-carrying ability.
Still, the Meridian remains a very strong contender within its niche: extended, multi-day backpacking where you need to carry modest-to-heavier loads over long distances without bruising your shoulders and hips. If comfort and durability in the 30-pound load range are your focus, thru-hikers and trekkers take note: this remains a great pick.