Keen Voyageur Mid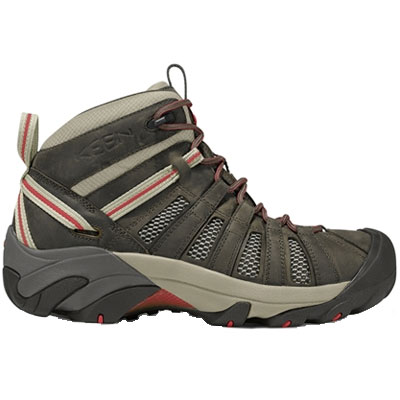 wide toebox
ventilated
less 'shape'
2 lbs 3.5 oz/pair
Keen's handsome Voyageur Mid is a light summer hiking boot with a simple mesh lining instead of an XCR membrane to improve ventilation.
The absence of a waterproof barrier was specifically what drew me to the Voyageur. I've found XCR shoes simply too warm and stuffy for most three-season hiking. You may get your feet a little wet if you botch a creek crossing, but other than that, there's no real advantage to waterproof linings in summer. On that front the Voyageurs are somewhat cooler than my Vasque Breeze XCR boots—but not quite as much as I had hoped.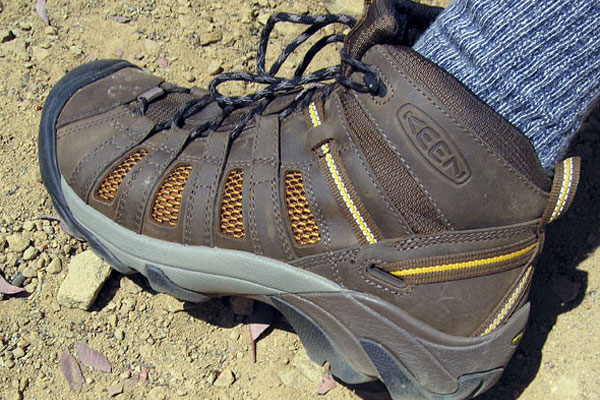 On the whole the Keen Voyageur makes a distinctly mixed impression.
I loved the spacious toebox, which provides ample room in all three dimensions—height, width, and length—to keep your toenails on your toes where they belong.
But the overall shape of the shoe is a little primitive: the Voyageur's strap-based design (Keen is primarily known for its sandals) isn't shaped as well out of the box to fix a human foot. I especially noticed some pinching around the top of my foot, where the boot's lack of contour seemed most problematic. Luckily, they do break in with use.
Perhaps as a consequence of the boot's less tailored shape, I noticed just a tad too much room in the fit overall for my average foot. Low volume feet will likely find too much room here; larger or wider feet may find the fit more appealing. I was concerned about my foot sliding around in the Voyageur, particularly while hiking downhill. However, the Keens do cinch down tight enough to make for an acceptably stable fit.
The Voyageur's construction appears rugged, and the sole features aggressive 4mm lugs for traction, plus a shank for torsional stability. Still, I wouldn't put the Voyageur in competition with a more dedicated hiking boot. Backcountry calls these a 'hiking shoe,' which is probably the best way to describe them: considerably more stability than just a trail runner, but not the same level of support as a true hiking boot.
As a hiking shoe, then, the comfortable Keen Voyageur is lighter than most hiking boots (2 pounds 3.5 ounces per pair in a size 9.5) but less supportive. Compared to a trail runner, the Voyageur is more supportive but less breathable. On the whole, then, the Voyageur fits an alarmingly small niche between those two traditional categories. At this level of support it is tempting to just move down a notch and hike in a good trail runner—or move up and get the Breeze.