Nike Air Zoom Tallac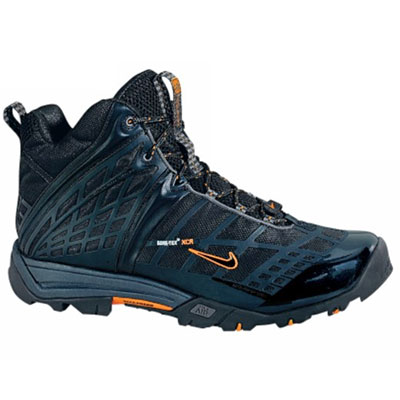 ultralight
load-worthy
durability suspect
2lbs/pair
Nike's innovative & ultralight Air Zoom Tallac burst out of the box with a Backpacker Magazine Editor's Choice award. The shoe, however, didn't sell very well.
Nike revised the coloring scheme, but the Tallac never seemed to gain widespread acceptance. Officially or not, the boot was effectively discontinued by Nike's refusal to stock it. Is Nike re-releasing the Tallac under the 'Pro GTX' name? Only if you can find it. Nike still doesn't seem to have made up its mind whether or not it wants to make hiking boots.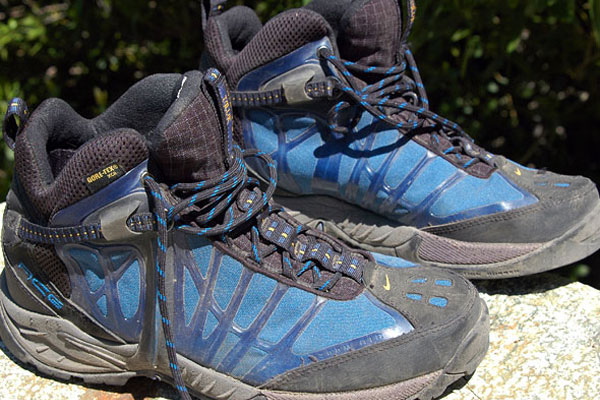 All of this confusion is a shame, because the Air Zoom Tallac—going all the way back to the original edition—has always been an impressive shoe. I'd go so far as to call it a marvel of design: an ultralight hiking boot with the feel of a trail runner and the support and traction of a backpacking boot.
The Tallac will allow you to carry backpack loads up to about 40lbs, with enough crucial ankle support to keep you moving. Compared to a traditional hiking boot, the Air Zoom Tallac certainly does not offer the same degree of support, durability, or cushioning—but who cares? The shoe weighs as much as a trail runner! Better still, it features a design both highly breathable and waterproof, thanks to the GoreTex GTX layer.
Through the various iterations of the Tallac, complaints have surfaced about its durability. Again, this is wholly understandable given the shoe's ultralight design. I beat the heck out of mine and still got about three seasons out of them, for which I was very grateful. It was with much sadness that I finally retired my Air Zooms.
I don't believe any manufacturer has released a comparabily light hiking boot with the same level of support. So, if you can find 'em, the Air Zoom Tallac (Pro, Plus, or original) remains a top pick for ultralighters who care more about ounces than longevity.